"The fabulous invalid" has been in traction for most of 2020–laid low but, miraculously, not out by the coronavirus. Somehow in these pandemic times, theater has a way of seeping through and finding an audience, no matter where it's sheltering. Broadway's Best Shows has been providing one substantial way with the "Spotlight on Plays" series of livestream readings it offers to benefit The Actors Fund.
The series' first season concluded with a Zoom presentation of Barbecue, a rambunctious social satire which premiered five years ago at The Public Theater. Robert O'Hara, currently Tony-contending for his direction of Jeremy O. Harris' Slave Play, wears two hats for this opus—director and playwright, lording over a cast of ten, the third largest cast in the series.
"We got some great actors and just let them go," O'Hara declares with some delight. "Jeffrey Richards, the producer, cast most of it, and then I made a few calls to some of the people I knew. Everyone we asked said, 'Absolutely!'" You couldn't get some of these people if it were normal times because they'd be working. These are all professionals, and they have genuine comedic skills. You don't have to worry about them landing the joke. Having these amazing actors read the play was great for me."
Emmy winners S. Epatha Merkerson and Laurie Metcalf head the cast, along with Carrie Coon, Colman Domingo (who directed the L.A. version of Barbecue), Kristine Nielsen, David Morse, Kimberly Hebert Gregory, Annie McNamara, and, from the original Off-Broadway cast, Tamberla Perry and Heather Simms.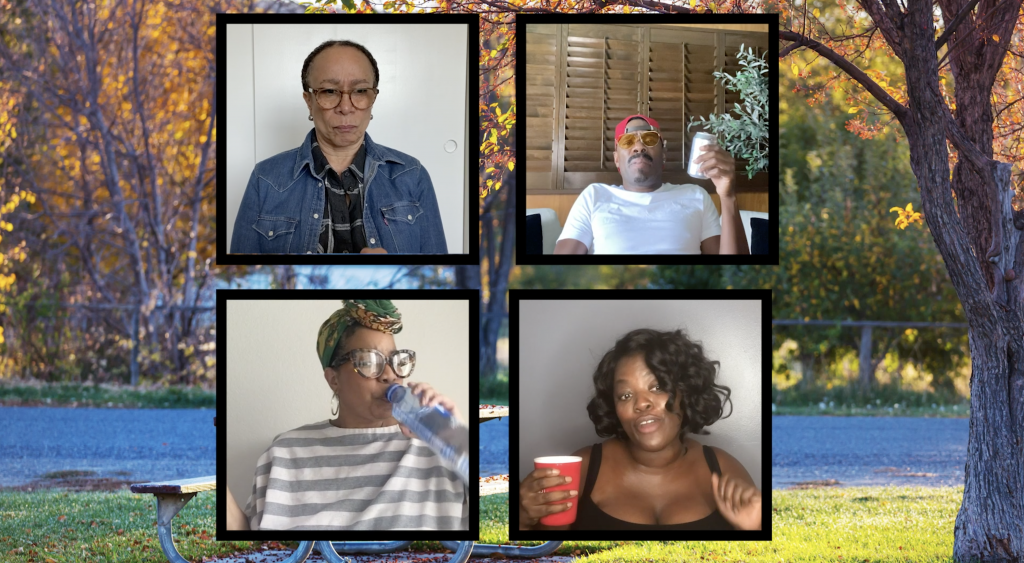 "When we all got together on Zoom, I let them ask questions, and we discussed it," O'Hara recalls. "They'd already read the piece, and they had their thoughts, so we read it a few times to see if there were any questions. These days, actors don't have to all get together in the same room. And it doesn't take that much time to do. It's a charity reading. If it were a production, it would be much more involved."

Barbecue is a comedy full of surprises and sharp right turns, and critics in 2015 bent over backwards keeping its secrets. "We begged them," admits the author, "because that's part of the fun. You keep wondering, 'What's going on here?' It's always fun with plays when you can hold on to a secret. Very few things are secret anymore."
The entire original Broadway cast of seven in Joshua Harmon's Significant Other reunited to do their Zoom reunion. Time Stands Still also reunited its original company of actors.
The cast of characters consists of a lonely, conflicted gay (Gideon Glick), his granny (Barbara Barrie), his girl (space) friends (Lindsay Mendez, Rebecca Naomi Jones and Sas Goldberg), their spouses (Luke Smith)—plus Mr. Right (Smith, doubling) and Mr. Wrong (John Behlmann). The play put in time Off-Broadway at the Laura Pels before bowing on Broadway on Valentine's Day of 2017 ("Singles Awareness Day," it insisted).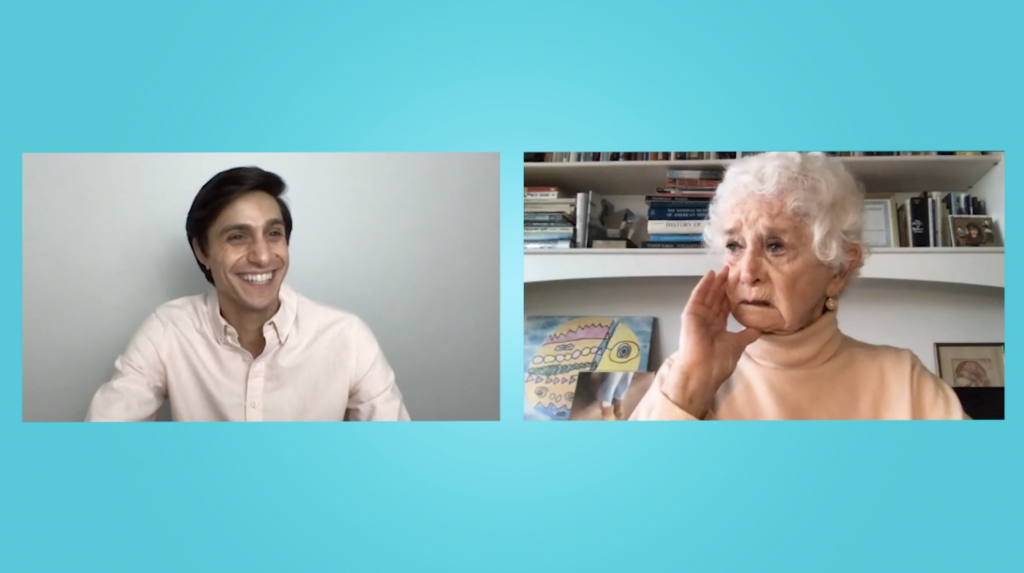 "I felt especially grateful that we got the original cast back together again because of Barbara Barrie," beams Trip Cullman, who directed both stage versions and the Zooming. "She was magnificent on stage, but she's such an accomplished film actress her performance on Zoom is like, honestly, Academy Award-worthy." He does not exaggerate. Actors Equity Association presented its Richard Seff Award to the 89-year-old actress.
Of late, Cullman has been exploring a different medium than the stage, co-directing with his brother a short film called The Soldier, which they are now in the process of submitting to festivals.
Thinking cinematically was how he approached Zooming Significant Other. "It was sort of a discovery process," he says. "Because it was recorded and we edited it afterwards, I really felt I could make some adjacent kind of choices in terms of pacing and the way the characters related to each other. The ability to use filmic techniques like cuts was super-helpful in getting across the kind of compulsive forward momentum of the play.
"I've done live Zoom things as well as recorded and edited Zoom things, and I'm much more a fan of the latter. One of our actors, for instance, had terrible internet connections. We had to completely re-tape her audio in post-production to fix it because she was unintelligible. If we had been doing it live, that would be how it would go out to people—and no one wants that."
Phylicia Rashad, who collected her Tony for the 2004 revival of Lorraine Hansberry's A Raisin in the Sun, turned director for the series and addressed David Mamet's gripping drama, Race.
Basically, the play is a taut court-roomer that takes place far from a courtroom—in the office of three criminal lawyers (Ed O'Neill, David Alan Grier and Alicia Stith). There is a fourth character–their client (Richard Thomas), a wealthy businessman accused of a racially charged sex crime—and the drama, sharp-tongued and smart like most Mamet, lies in the interplay of the three attorneys over a red sequin dress as they prepare their defense.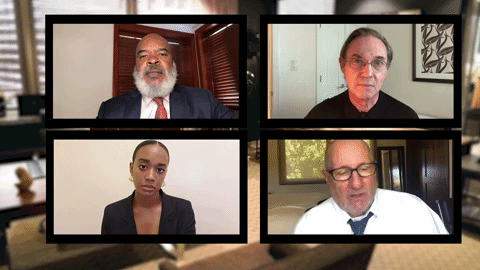 Direction is new to Rashad's skill set. She enjoys dabbling in both disciplines, but "Zoom-directing is different from anything I've ever done. If I was just doing a reading of a play, I would have had more time. With the Zoom factor, it's all very quick. Zoom means fast, right? We were not allotted much time with this. Fortunately, we had a very good cast."
Grier, a current Tony nominee (for A Soldier's Story), and Thomas have a head-start on the play, hailing from the original Broadway company. O'Neill was already cast when Rashad came aboard, but she personally assigned Stith the role Kerry Washington originated. "Alicia's a new face, coming out of the NYU graduate program. I'm very pleased with what she brings to the play.
"The significance of these Zoom presentations is that they can be enjoyed specifically for their literary value. You don't have staging, you don't have wardrobe. What you have is the text, and you have the actor. That's all you have. You don't have a live theater space. The actors are not even in the same room. Ed was over in Hawaii somewhere, David was in Los Angeles, Alicia was in Baltimore, and Richard Thomas was in Canada. Everybody is on their own computer. It's an interesting way to work, I'll put it that way."
Jerry Zaks, who has won four Tonys and been nominated for four more, has a special way of approaching a play if he is directing it for Zoom: "Reluctantly," he laughs, and there's a discernible ring of reality in that laugh. "It's so lacking in what makes rehearsal special, which is the in-person contact. Directing in person—that's obviously gone for the duration, but there's no denying that it's fun to work.
Luckily, he picked the perfect play for these pandemic times: Love Letters, A.R. Gurney's deceptively simple epistolary two-hander of 1988. It was written to be read to audiences by actors sitting at their respective desks, reviewing the correspondence of a pair of lovers who go through life never connecting. With rotating star-couples, it racked up impressive runs Off-Broadway and on and was last seen on Broadway in 2014 with Mia Farrow and the late Brian Dennehy.
Luckily again, Zaks got an ace pair of award-winners to do the honors—Tony and Emmy-winning Bryan Cranston and twice-Oscared Sally Field. "They worked so hard, and the three of us got along so well. Is it better than not doing something? Yes. It's better than the alternative, which is nothing at this moment in time. Look, I'm grateful that I had a chance to work with these great actors."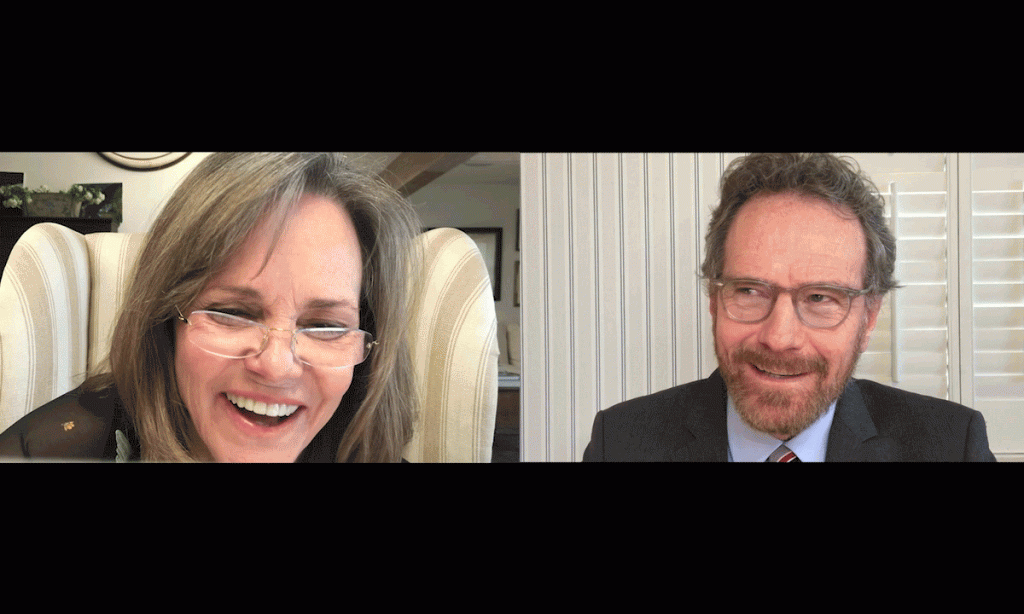 As with these other Zoom shows, a table read is a quaint thing of the past. "I'm on my iPad. The actors are on their computers, and we're talking to each other via Zoom. You can only spend so much time working on Zoom. You get tired looking at the screen. The nature of rehearsals is different. You don't have as many rehearsals. With Love Letters, it was really important that the actors become as familiar with their words as possible. Ordinarily where I might stop and start and stop and start when I'm in rehearsal, I really didn't want to take a chance on the actors not getting a chance to rehearse the whole piece so I had to be very careful about when I interrupted them."
Among the plays that will be shown in the spring season of the "Spotlight on Plays" series are Adrienne Kennedy's The Ohio State Murders, Larissa FastHorse's The Thanksgiving Play, Sarah Rhul's Dear Elizabeth and Pearl Cleage's Angry, Raucous and Shamelessly Gorgeous.
All proceeds for these events will benefit The Actors Fund, to aid during this time of unprecedented need.
---
Harry Haun has covered theater and film in New York for over 40 years. His writing has appeared in outlets such as Playbill Magazine ("On the Aisle" and "Theatregoer's Notebook"), New York Daily News (where he wrote a weekly Q&A column ("Ask Mr. Entertainment"), New York Observer, New York Sun, Broadway World and Film Journal International.