Strange Moments That Were Oddly Not Embarrassing
The first time I nearly died onstage was in Cleveland, Ohio. I had stolen the text of the Book of Job from the Bible and was performing it as a play. I was playing Job.
I was twenty-four years old, way too young and healthy to look the part, so I decided to wear about a half pound of suppurating sores made of putty as well as a bald pate with wisps of crepe hair. I didn't really know how to keep the hair glued down, and on opening night, while I was complaining to God, a little piece of crepe hair floated off my face and wafted through the air. When I took a deep breath to launch into another complaint, it flew into my mouth and down my windpipe. I started choking miserably. For the first minute of distress, instead feeling embarrassment, I was sure the audience thought I was an incredibly realistic actor. Not quite. If anybody thought it was acting I was doing, around the second minute, they were probably thinking, This kid is going to die right in front of us. I coughed and choked so long and so pathetically, they had to bring down the curtain. And this was opening night. I finished the play—not to especially rousing applause—and after the curtain came down, I could hear an elderly theatergoer in the front row say to his wife, "What did they put that on for?"
The second time I nearly died was, again, on an opening night. This time on Broadway. The play was called "Fair game for Lovers" and I, still in my early twenties, was playing a young man frustrated by love.
My character had been jilted by his fiancée, and there I stood, alone onstage, ranting with passion about my fickle girlfriend—while I smoked a cigarette. Unfortunately, I had never quite got the hang of smoking. Smoke made me choke, and I often found it difficult to light a cigarette without burning the end of my nose. This night, I managed to get the thing lit and waved out the match, which I held at my side while I went on with my rant. There were two important things I didn't realize: I was wearing a cheap acetate robe, and the match head was still glowing. Halfway through my monologue, I heard a whoosh, like wind suddenly rushing through an open car window. I looked down and saw that the entire front of my robe was a sheet of flames. In a moment like this, a normal person might think, How close am I to a seltzer bottle? Not me. My first thought was, Oh, God, this is going to get such a gigantic laugh. The audience, of course, familiar with the image of people being trampled to death in a burning theater, was not laughing. There was dead silence while I furiously patted out the flames. I didn't even get a round of applause for my quick thinking. I did get a nice mention in the New York Times review the next day when Walter Kerr said that I was a young actor willing to do anything to get attention, including set myself on Fire. I was more interested in getting a laugh, than life itself.
The third and final brush with death on stage was during the Boston tryouts for "The Apple Tree."
It was Act Two, where we told the story of "The Lady or the Tiger?" I had just finished a song and was heading upstage to choose one of two doors. Behind one was the Lady and behind the other was the Tiger, and certain death. Just as I turned, a huge lighting apparatus fell from the flies, grazed the feathers of my cape, and pounded against the floorboards, pinning the cape to the stage. It must have weighed a hundred pounds, and the noise was like that of a car crash. It had passed a couple of inches from my head. The audience gasped. I, of course, tugged at the feathered cape as though I were Marcel Marceau, and somehow that managed to get a laugh.
Finally. A laugh.
In the old joke, an actor is dying, and his friend says, "Dying must be hard." The actor says "Dying is easy. Comedy is hard." Especially, if you combine them.
---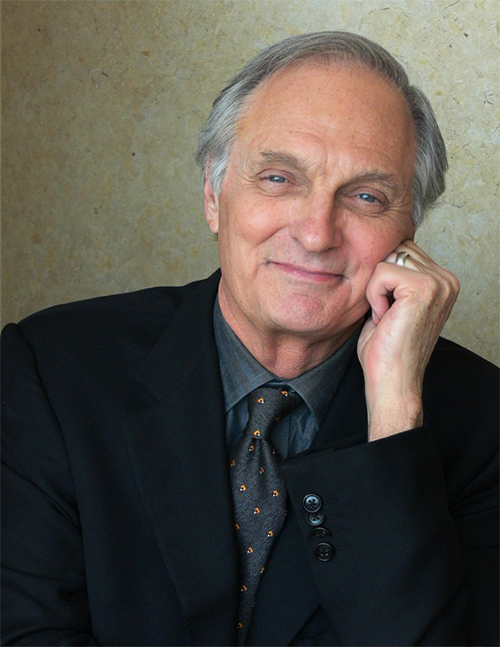 Alan Alda is an American actor, director, and screenwriter best known for his role in the long-running television series M*A*S*H (1972–83).
On Broadway, Alda is a three time Tony Award nominee whose career includes productions of Purlie Victorious, The Apple Tree,The Owl and the Pussycat, Jake's Women, QED, Glengarry Glen Ross (2005 Revival), Art and Love Letters.
His later television work included recurring roles on ER; The West Wing, for which he won an Emmy; 30 Rock; The Big C; The Blacklist; and Ray Donovan. Film credits include, including Same Time, Next Year (1978), Crimes and Misdemeanors (1989) and Marriage Story (2019). He received an Academy Award nomination for best supporting actor for his performance in The Aviator (2004).
Alda's books included Never Have Your Dog Stuffed: And Other Things I've Learned (2005), Things I Overheard While Talking to Myself (2007), and If I Understood You, Would I Have This Look on My Face?: My Adventures in the Art and Science of Relating and Communicating (2017).