While the horror and thriller genres are typically reserved for the screen, Broadway can sometimes be a spooky place, where audiences have been left with their hearts racing, for one reason or another. Just like in film, horror theater productions often use their thrills and chills as social critiques. Read on if you dare…
Sweeney Todd: The Demon Barber of Fleet Street
Theater's ability to comment on social issues while leaving audiences breathless and entertained might just have reached its pinnacle with the nightmarish Sweeney Todd. It's class warfare via cannibalism, when a barber back in London after 15 years of wrongful imprisonment starts killing those responsible while shaving them, and since the price of meat is otherwise too high ("times is hard"), his downstairs neighbor bakes the bodies into pies. Maybe the most horrifying part of Sweeney is how, as we learn about the wrongs committed against Mr. Todd and his wife and daughter, they're just so awful that his string of murders feels almost…reasonable? It's that moral dilemma that writers Stephen Sondheim and Hugh Wheeler explore in the show. Sweeney Todd came back to Broadway in spring 2023, in a Tony-nominated revival starring Josh Groban and Annaleigh Ashford.
Grey House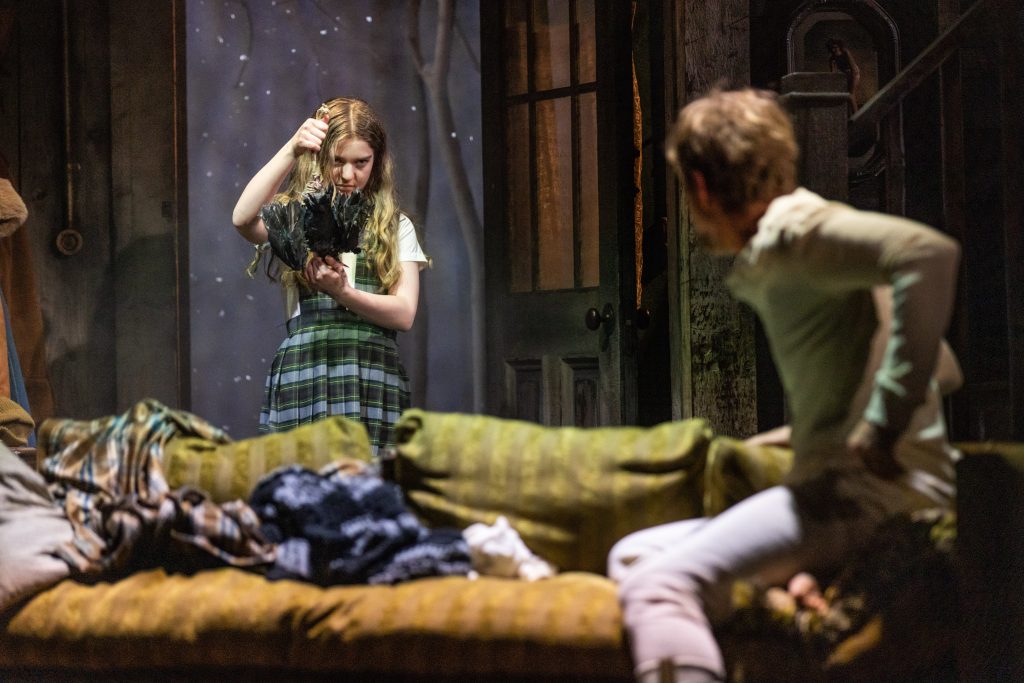 The first play of the 2023-2024 Broadway season, Grey House intentionally pulls from the American horror film oeuvre. Set during a blizzard in an isolated cabin inhabited by weird and precocious children, a collection of horror movie tropes that the play's script acknowledges, the production utilizes jumpscares, eerie underscoring, and innovative special effects and makeup to scare theatergoers.
1984
This adaptation of the George Orwell novel was infamously gory–it made Broadway audiences faint and throw up during its run in the summer of 2017. It used the book's political dystopia as a basis for intense horror, divoting almost a third of its runtime to the 'torture room' sequences, unlike anything seen on Broadway before.
The Pillowman
This 2004 murder mystery made playwright Martin McDonough a household name, with an incredibly dark story of a series of gruesome child murders that are eerily similar to the work of a murder mystery novelist. Particularly shocking to audiences was that, somehow, this play was also funny.
The Humans
On the surface, Stephen Karam's 2016 play might seem like a typical Jewish American family drama, set at a contentious Thanksgiving dinner. But something else is lurking in this Chinatown walk-up apartment, as the floors start to creak. While it's left ambiguous, there are some forces in The Humans that might not be, well…human.
Angel Street
Have you ever wondered, where did the term "gaslighting" come from? Its source is the 1938 play Gaslight, which premiered in New York in 1941 titled Angel Street, and was later a 1944 Hollywood film. On Broadway in 1941, Vincent Price played Mr. Manningham, a London aristocrat who secretly turns the gas lights in his mansion lower and lower over time for nefarious reasons– but when his wife Bella asks him, he says the lights haven't been lowered, making her lose her mind.
Sleep No More
Though not on Broadway, New York theatergoers have this McKittrick mainstay on the menu for their ghostly cravings. This immersive take on Macbeth lets you roam the halls of this abandoned hotel-turned-performance venue, which also has other productions besides Sleep No More running from time to time.
Little Shop of Horrors
Howard Ashman and Alan Menken used tropes from B horror movies and creature features from the 1950s to create Little Shop, a parable about a poor flower shop assistant on Skid Row who raises a mysterious carnivorous plant he names after his crush, Audrey. A revival directed by Michael Mayer has been running off-Broadway at the Westside Theater since 2019, with a revolving door of stage notables playing Seymour, Audrey, and Orin the Dentist. Joy Woods of Six stars as Audrey – here's her singing "Somewhere That's Green" with Menken on the piano.
Across the pond, London audiences have had their fair share of scare with the following shows.
2:22: A Ghost Story
A woman hears noises through her baby monitor every night at 2:22 AM. She and her husband invite two close friends over to stay up and try to figure out what's going on, and to prove that it's not a ghost. That's the concept for 2:22: A Ghost Story, which finished successful runs in the West End in 2021 and 2022, as well as Los Angeles in Fall 2022– it might even start terrifying Broadway audiences soon.
The Woman in Black
This play by Stephen Mallatratt ran continuously in London from 1989 to 2023, for a total of 13,232 performances. It's a chilling tale of a ghostly apparition and family trauma in Northern England, with a cast of only three actors playing dozens of parts.