My First (and Last) Artistic Directorship: 1986-8
I was in a sauna with my husband and 3 year old son on the Dingel peninsula when I received a phone call from Joe Papp asking me to start a multicultural Shakespeare company for him to play for the New York City school system.
Why me? He had seen a multicultural-multilingual production of ANTONY AND CLEOPATRA that I had directed at the Womens' Interart Theater on 52nd Street. I put together a company: 5 Blacks, 6 Hispanics, 3 Japanese, 2 Whites and 1 Turk.
We played in the Anspacher theater at 425 Lafayette Street for one year and then moved to the Belasco Theater on West 44th Street as SHAKESPEARE ON BROADWAY. It was Joe Papp's dream.
We played daytimes during the school week for high school and junior high school students. On Friday and Saturdays they could bring their families from great grandparents to babes-in-arms. It was all free.
I TOOK FIVE MONTHS TO DEVELOP THE COMPANY
First an hour of relaxation and physical work led by a member of the company who was a dancer.
Then an hour of vocal work led by another member of the company. Then, five hours of free form work to find out who these actors were.
The reason for these five months?
Commercial actors of whatever culture or race learned to "act white" back in the 80s. I wanted to know who these people really were, their customs, their talk, their heritage, themselves. That stuff is the bedrock of compelling theater and fine acting.
One day Rene Moreno, an Hispanic, was showing us something of his heritage when Vince Williams, a big black guy from a family of musicians in New Orleans, sitting near me watching in the audience, piped up with "My heritage is some guys standing on a beach waiting to be brought here to be slaves". Necessary talk this. Five months of it.
What do high school students like? Sports teams, oh, yes!
We put sweats on the actors and we had a sports team. (Ruth Morley of ANNIE HALL fame did the costumes). THE NEW YORK SHAKESPEARE FESTIVAL PLAYERS
AFTER 5 MONTHS, HERE'S THE DRILL!
The actors came out to introduce themselves "Hello. I'm . . ."
But-hold it! Is that theater? What is your moniker, what is your "John Hancock"?
What is yourself? Show me your essence!
Not easy. Maybe impossible. Try.
One actor was really good at juggling. One could do backflips. One had been trained at New York City Ballet. Got it? Too big a challenge? Yes. Try!
By now the kids were into it.
Bess Myerson, a former Miss America, now part of the city government saw just this much of the performance and gave us a big donation.
BLACKOUT. LIGHTS UP. AS YOU LIKE IT.
Natsuko was Rosalind. Celia was Regina Taylor—with a live boa constrictor around her neck. 25 pounds. Had his own dressing room.
"I can't rehearse all day with this thing around my neck." Of course not—but it had been her idea.
One matinee, lights came up and a big girl in the front row shot to the back of the house – faster than any animal I had ever seen run.
The snake was still on Regina's shoulders.
We alternated AS YOU LIKE IT and ROMEO AND JULIET.
We played the Anspacher, the Mobile Unit in the parks all summer, and then added the Scottish play when we became SHAKESPEARE ON BROADWAY. Ching Valez played Lady M.
Oh, but she could.
After the students had seen the productions, the actors, as themselves, visited the schools and "played Shakespeare" with them.
At the end of our second season, I went, as a wife, to Gracie Mansion for dinner with the Mayor. My husband worked in the city government.
Bobby Wagner, head of the school board, was there. He told a story.
"I was in a school elevator and asked a teacher how her year had been. She said 'Estelle Parsons' Shakespeare program was the only good thing that happened all year."
---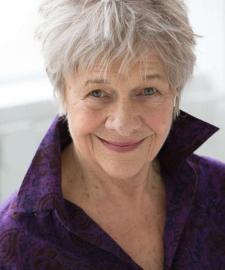 Estelle Parsons received an Academy Award for Best Supporting Actress for her role as Blanche Barrow in Bonnie and Clyde, and was also nominated for Best Supporting Actress for her work in Rachel, Rachel. She is well known for playing Beverly Harris, on the sitcom "Roseanne", and its spinoff "The Conners". She has been nominated five times for the Tony Award (four times for Lead Actress of a Play and once for Featured Actress) for her work in The Seven Descents of Myrtle, And Miss Reardon Drinks a Little, Miss Margarida's Way, Morning's at Seven, and The Velocity of Autumn.