A lamp, a locket, a fiddle, a pie. To theatre fans, these four items conjure up images of iconic shows, and that's the secret power of props. Though they often blend into the scenery, each prop has its own story to tell and can become the eternal image of a production. But how do you go about finding that all-important piece?
"My process starts with dramaturgy—reading the play, reading the play, reading the play," says Kathy Fabian, owner of Propstar. "I read about the play, the playwright, about the playwright's other plays, listen to the director and the other designers [discuss] their interpretation of the piece and their goals so I can attempt to interpret what's in their 'mind's eye' when they picture the world we are about to create."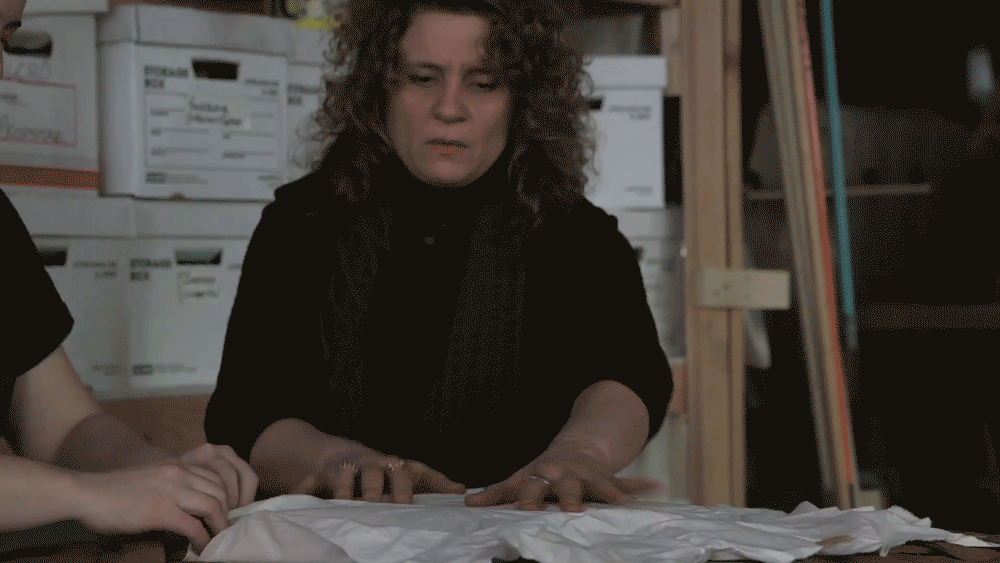 Since 2005, Kathy's company has designed and managed large-scale prop packages for dozens of Broadway and Off-Broadway shows, as well as for TV and film. From All My Sons to Kinky Boots, her keen eye and amazing artistic vision have dressed the sets of some of the biggest productions in New York—and her latest challenge is quite a feat.
Kathy will provide the props for David Mamet's classic play American Buffalo, which is due to open at Circle In The Square Theatre this summer. Set in a junk shop in the late 70s, it tells the tale of the shop's owner, Don, who plans to steal back a buffalo nickel he believes is worth more than he sold it for.
"The junk shop definitely has its own presence, and even though it doesn't have a voice, it's integral to telling the story," Kathy explains.
Like an actor building their character, she digs deep to get to know her subject inside and out ensuring it becomes a real place in the minds' of the audience. "I ask myself many questions like what's the history of the shop? How long ago did the junk begin to amass? What are Don's personal interests that might influence what he collects? Does he curate his goods or did he just happen upon/steal/salvage/buy them? What's the difference between a pawn shop, a thrift shop, an antique store, and a junk shop?"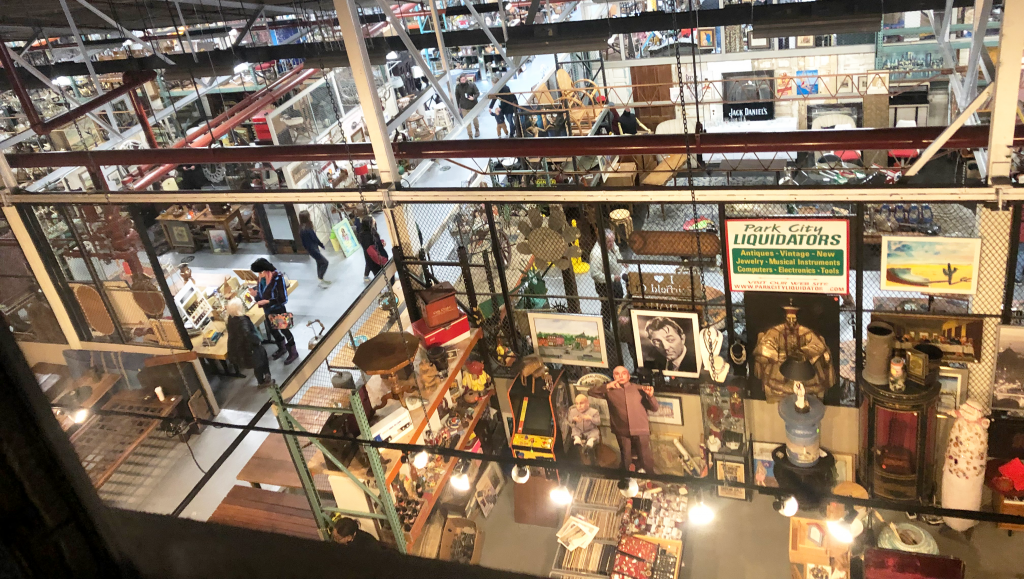 Just like a missed line or an ill-timed lighting cue, a prop from the wrong decade or even a piece with the wrong texture can pull an audience out of the world presented on stage. But sourcing items takes time, research, and patience, particularly for a set that's densely layered. "I start looking at advertisements from the era and head to eBay and Etsy to look for hero items first. Once I've got my smattering of jaw-dropping 60s and 70s lamps, famous toys, posters, comic books, car parts, and specific items mentioned in the script by name, I move onto vintage fillers. Other than a few iconic gems an audience member might recognize from their past, the merchandise, (if you can call it that), is truly junk – used items you wouldn't believe anyone would buy."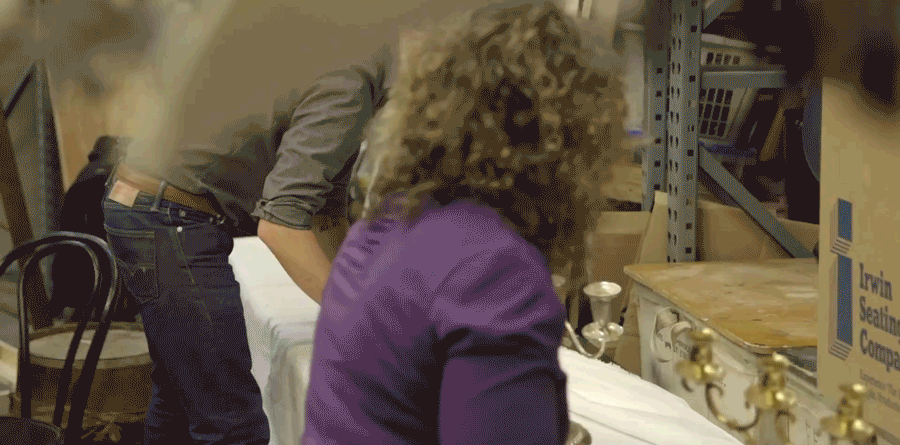 Though filling a junk shop may be a prop master's dream, each show offers its own opportunity, challenges and excitement, with no two jobs ever being the same. "You probably won't learn something from one project that you can use as a go-to solution on the following ones. One morning, you may find yourself embarking on a play that's set on an imaginary planet 100 years in the future, and after you've translated the playwright's words into 3D for the stage, your next endeavour might be to recreate the inside of a military hospital during World War II."
With a breadth of eras, locations, venues, and environments to create, the number of items needed by such a prolific prop specialist is astounding. "Space is always an issue, especially in Manhattan," Kathy explains. "I keep two large rooms of small items like houseware, tools, soft goods, and collectibles at my studio on 52nd Street. We offer smaller companies with challenged budgets the option to rent items for $5 to $10 a month. This keeps things moving. I keep larger items in storage units in New Jersey and Yonkers. Shows like American Buffalo provide a great opportunity for spring cleaning as they allow me to lend things from my own stock and make some much-needed space for a while."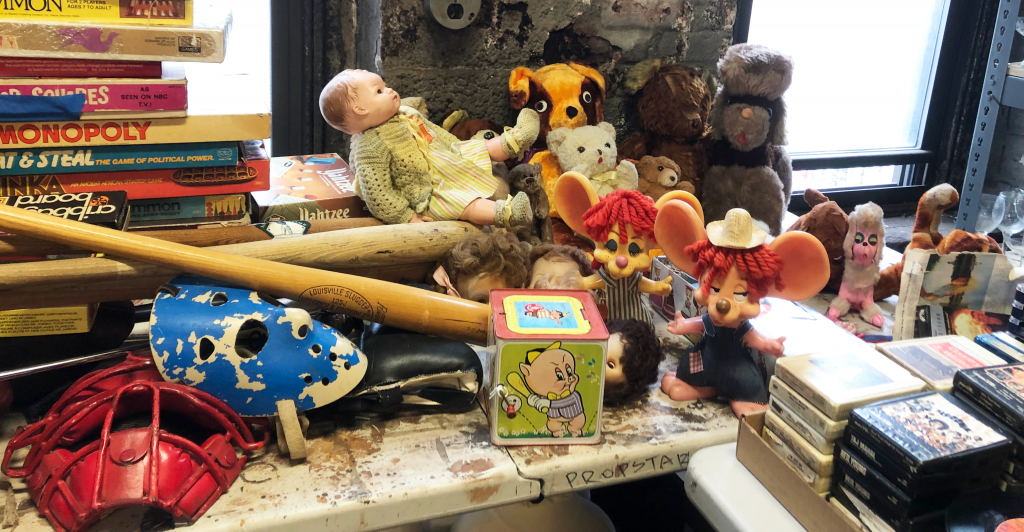 With rows and rows of incredible items that have created their very own time capsule, along with all the equipment any theatre company may need to kit out a rehearsal space, Propstar's warehouses are treasure troves that would wow anybody lucky enough to explore them. Packed full of vintage telephones and signs, banquets of fake food and old-school accounting calculators, miniature books and handmade textiles, Propstar's wealth of products are more than a starting point for any production's needs. However, Kathy's hunt for the perfect items never stops. "I visit flea markets, Goodwills, salvage yards, Craigslist… the online auction sites these days are so very helpful. When I started my career, all my shopping was on foot, and in some cases, I really had to get lucky!"
Kathy is part of a community of prop specialists that work on Broadway. Between them, they form a network of knowledge and contacts that can find almost anything a director could want or need for a show. "If I hit a wall and can't find the particular item I'm looking for, I call around to some of my junk dealers and other pals in the business. People who do what I do enjoy the hunt, so often once I put the word out there that I'm after something, folks join in on the search. We trade favors."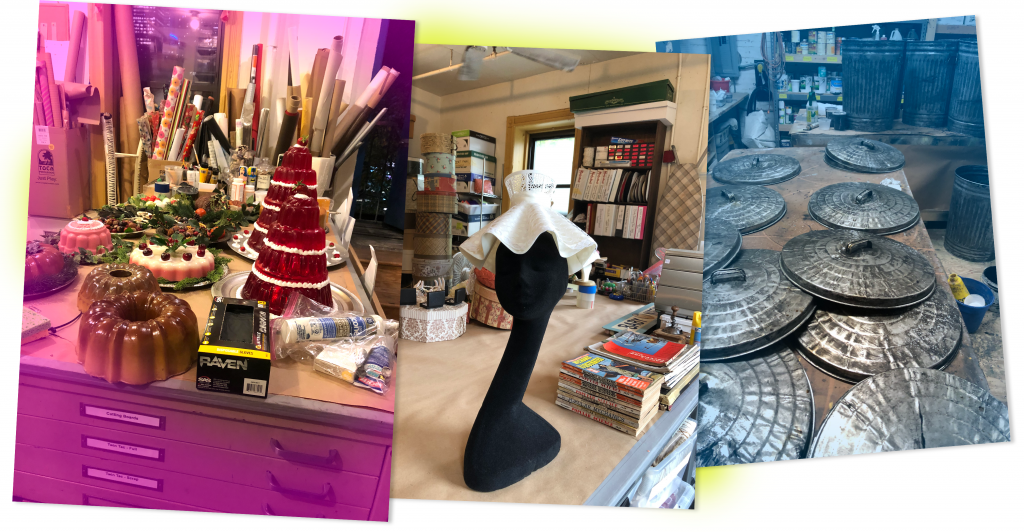 However, there are times when all the favors in the world aren't enough to find that one special item and you have to go a little further afield to find what you're looking for: "For Fiddler on the Roof in 2004, no one could come up with the authentic Russian antiques which were required to fulfil the design vision, so I got on a plane to St. Petersburg."
With tight schedules and a creative team awaiting input, prop masters don't always have time to fly across the world. Luckily, there are other ways to get your hands on that elusive object. "Sometimes, rather than wasting too much time looking for something, I decide it's more effective to just start from scratch and build a copy of the item. The wealth of talented craftspeople in this local network affords us that option as well."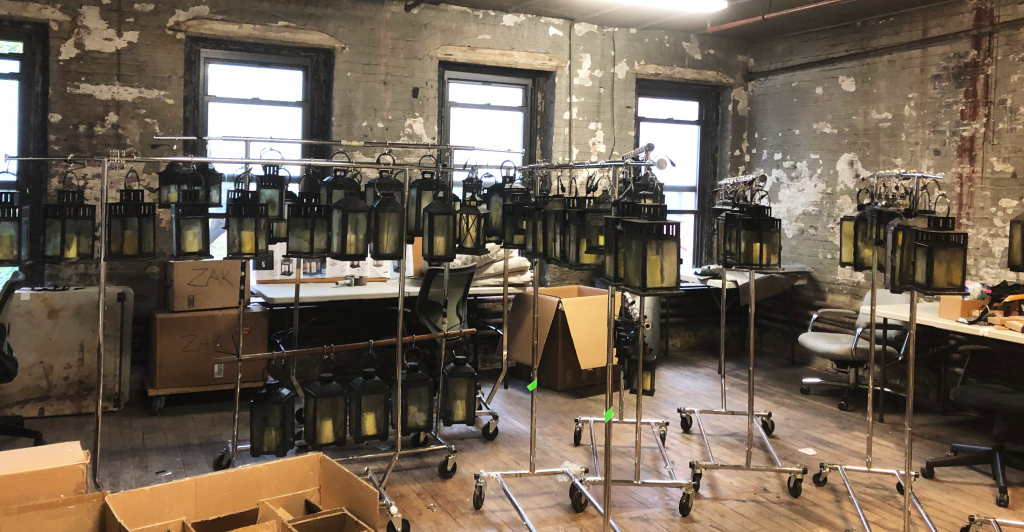 Kathy herself has always had an interest in making and creating, learning crafty hobbies at a young age. "Both my grandmothers taught me to sew, and so my hands were busy with crochet projects, needlepoint, doll-making, etc. from a very young age."
This creative nature followed Kathy throughout her life and eventually led her to a career in props. "During my time at the University of Vermont, I was very active in theatre, both the performance side and the technical side. I took a special interest in carpentry and finish work. When I first moved to New York, I worked as a furniture maker and began receiving offers for props work. Slowly I took on more and more projects (while keeping my night job, of course), built a small company, and graduated from Off-Broadway to Broadway offers. Finally, one day I realized I didn't need to wait tables anymore."
For anyone interested in starting a career in props, Kathy has two pieces of advice: "Number one, call me! And number two, be prepared for a wild ride of multitasking and shedding your fears of trying new things and asking questions. You will never find the words 'I'm so bored' floating in your mind again."