Meet Dane Laffrey & Lucy MacKinnon, the Tony-nominated team responsible for the scenic design in last holiday season's one-man Broadway staging of A CHRISTMAS CAROL.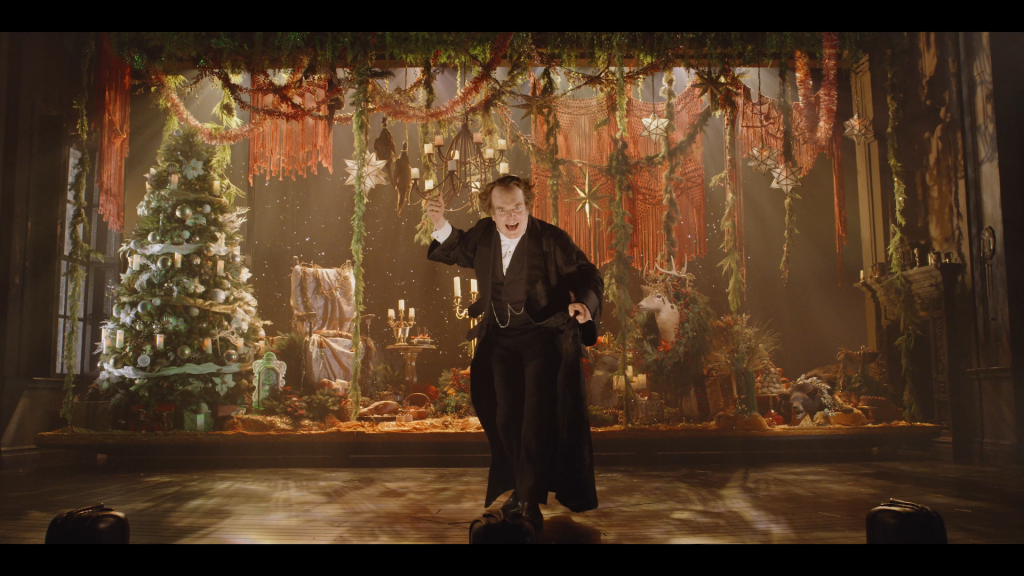 The spooky magic surrounding Jefferson Mays' tour-de-force performance as all the characters of the classic tale is largely attributable to Laffrey's set and MacKinnon's accompanying video projections transporting us through time and space. Laffrey conceived of the production alongside director Michael Arden, and also designed the production's costumes.
This is neither designer's first rodeo, with Laffrey having been Tony-nominated for scenic design of the 2018 revival of ONCE ON THIS ISLAND, and MacKinnon a prior Tony nominee for designing the video in JAGGED LITTLE PILL.
The pair previously worked together on Arden's 2015 revival of SPRING AWAKENING, for which Laffrey also designed the costumes. Some of Laffrey's other Broadway credits include . MacKinnon has designed video assets for nine productions, including THE LIFESPAN OF A FACT and HOW I LEARNED TO DRIVE.
Both designers are currently represented on Broadway! Laffrey designed the set for this season's multi-nominated revival of PARADE, currently running at the Jacobs Theatre (another Arden collaboration), and MacKinnon provided video design for KIMBERLY AKIMBO, the Best Musical-nominated show running at the Booth Theatre.
Get to know more about this design duo with our TONY TALK Q&A:
Who was the first person to text/call you when you got the nomination?
Dane Laffrey: When the nominations were announced I was on a plane with no wifi – when I landed my phone did a great deal of pinging and vibrating. Hard to know who reached out first, but I received a lot of wonderful notes.
Lucy MacKinnon: My associate on the show! He called me early because he'd mistaken the predictions for nominations, but I appreciated it all the same.
Show some love to a fellow nominee this year. Whose work blew you away?
DL: I have to be biased and say my creative partner and dearest friend Michael Arden, nominated this year for Parade. We conceived A Christmas Carol together and he directed it brilliantly. His work on Parade is also staggeringly nuanced and expert. What can I say…he's the best! I'm incredibly lucky to share all the work we have so far, and coming up.
LM: Bonnie Milligan in Kimberly Akimbo. I worked on the show so I'm biased, but every performance she gives is incredible.
Top restaurant in the theater district?
DL: Vice Versa
LM: Bea on West 43rd street.
The first Broadway show you ever saw?
DL: Not counting the big tours (eg. Rent, Les Mis, Miss Saigon, etc.) I believe on Broadway it was Dame Edna: The Royal Tour at The Booth in 1999. I laughed 'til I cried. May she (and her manager Barry) rest well!
LM: I saw The Lion King the year it opened with my fifth grade class. I went to PS139 in Brooklyn, and seeing that show was a big event for all of us.
When did you decide to become a theater artist?
DL: After struggling a lot in school and at other 'normal' childhood pursuits, theatre was the first thing I encountered that I actually wanted to do. I was hungry for it, and looked forward to it and was sad when it ended. Basically it's been clear to me for as long as I can remember that theatre was what I was supposed to do.
LM: Watching David Byrne's Stop Making Sense over and over again on a VHS tape got me interested in design. Seeing William Kentridge's Magic Flute at BAM made me want to try to become a projection designer in earnest.
What is your earliest Tonys memory?
DL: Watching (and re-watching) old Tonys telecasts on VHS with my theatre friends, naturally. Fast-forwarding through the commercials.
LM: When Fun Home won Best Musical in 2015. I was there with my husband, who was also nominated for the show, and it was the most thrilling moment.
All-time favorite Tonys performance on the telecast, and why?
DL: I'm going to say the Once On This Island performance in 2018. My first nomination was for that show, and I was SO happy that we managed to capture the feeling of Circle in the Square for the performance. It was also quickly followed by us winning Best Revival, which doesn't hurt either!
LM: Sydney Lucas standing all alone on stage singing "Ring of Keys." That performance was so simple, and it was such a remarkable display of courage on her part.
Most memorable Tonys acceptance speech, and why?
DL: It's a tie. Ali Stroker for Oklahoma! Ali's a friend, we did Spring Awakening together, which was both of our Broadway debuts. Her work in Oklahoma! was extraordinary and I was so thrilled to see her recognized. And Deirde O'Connell, last year for Dana H. That show off-Broadway was the last thing I saw before the pandemic and her work is burned in my memory. I think Dede is one of the best actresses we have and her encouragement to "Do the weird art" are words to live by.
LM: David Byrne accepting a special Tony award for American Utopia. His show didn't quite fit the Tony boxes.
What is one play or musical you would like to scenic design on Broadway, and why?
DL: A wonderful new musical called Maybe Happy Ending which, fingers crossed, we'll be bringing in very soon. Michael Arden and I did it out of town right before covid and it's both a thrilling production and a fabulous, original story by Hue Park and Will Aronson. I'm very excited for the world to see what I know is going to be a very special show.
LM: I'd love to work with Kate Berlant on just about anything.