Looking Back at Forgotten Plays by Black Playwrights
A New Series in Honor of Black History Month
---
Almost 70 Years Later, Take a Giant Step Remains a Vital American Play
By MARK BLANKENSHIP
Spencer Scott, the hero of Louis S. Peterson's 1953 drama Take a Giant Step, ought to be listed alongside Willy Loman, Walter Lee Younger, and Joe Bonaparte as one of the great, socially aware protagonists of American drama. Just like those characters, he fights as hard as he can against the country's failures, and even though he doesn't win, he exposes something true.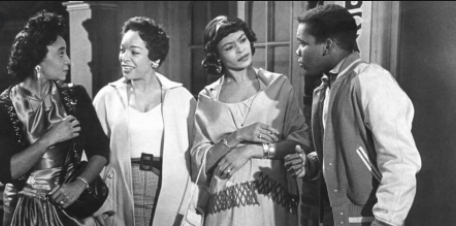 But as vital as they are, both Spencer and his play are largely forgotten. That's our mistake. Now is the perfect time to remember them.
To a modern audience, the story of Take a Giant Step will seem acutely familiar: The only Black kid in his tony northern high school, Spencer gets suspended after angrily contradicting a teacher who says the slaves were too lazy to free themselves during the Civil War. When his parents find out, they're horrified, though not by the teacher. They tell their son that as a Black man, he doesn't have the privilege of contradicting white people.
How is he supposed to be happy, he wonders, when everyone he knows just wants him to remember his place?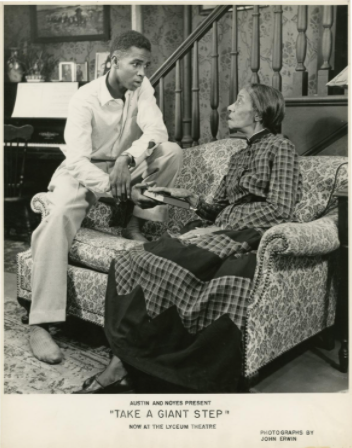 Peterson understood this conflict. He based the play on his own experience growing up in Hartford, Connecticut, and critics hailed him for his uncommon insight and feeling. After the show played five weeks on Broadway — and returned Off Broadway for an impressive eight months in 1956 — he abandoned his earlier career as an actor and became a trailblazer on Broadway and in film and television. He not only wrote the screenplay for the film adaptation of Take a Giant Step, which made him one of the first Black screenwriters in the Hollywood system, but also got an Emmy nomination for Joey, a 1957 installment of Goodyear Playhouse starring Kim Stanley and Anthony Perkins.
Granted, Peterson's success didn't always shield him from the very oppression that Spencer tries to fight. The film of Take a Giant Step, for instance, was forced to be re-edited because it was deemed too frank in its language and sexuality. As the critic Mark A. Reid noted in a Jump Cut magazine article about Peterson's work, onscreen depictions of Black sexuality in the 1950s and 60s were typically limited to lusty madness (like Dorothy Dandridge's character in Carmen Jones) or violent crime (like the the courtroom description of interracial rape in To Kill a Mockingbird). In this thick of this era, it was considered taboo for Spencer to have everyday confusion about growing up and meeting women.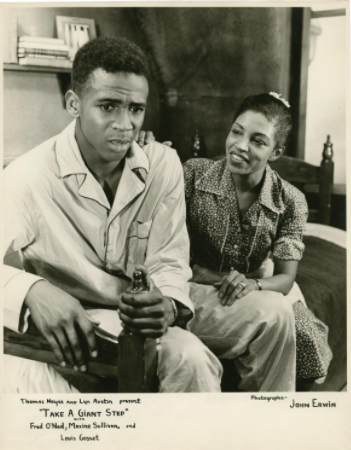 Undaunted, Peterson kept writing about social issues. His 1962 play Entertain a Ghost examines interracial relationships, as does his sweeping 1979 drama Crazy Horse. In 1983 he wrote Another Show, about the rise adolescent suicide, specifically for his students at SUNY Stony Brook.
None of these later plays were as successful as Take a Giant Step, but Peterson still had an undeniable impact on the arts in America. Along with laying a foundation for other writers of color, his work also highlighted a generation of Black performers. At the age of 17, for instance, Louis Gossett, Jr. made his Broadway debut playing Spencer, and before he became a superstar pop singer, Johnny Nash played Spencer in the film. Ruby Dee also appeared in the movie, while Beah Richards, Bill Gunn, and Godfrey Cambridge were among the stars of the Broadway and off-Broadway productions. (It's worth noting that Gossett briefly reprised his role in the Off-Broadway run as well.)
The astonishing cumulative success of these performers just burnishes the legacy of both a play and a playwright that are ripe for rediscovery.
—
Mark Blankenship is the editor of The Flashpaper and the co-author of the recently published book Madonna: A to Z.