Although it wasn't identified then as such, Broadway got its first Christmas song on Oct. 13, 1903. In the 117 years since, the sweeping swirl of Victor Herbert's "Toyland" from Babes in Toyland has come to epitomize the joyful spirit of the season. It was a show always sprinkled over the year-end holidays.
A Christmas Carol can be counted on to make recurring comebacks. The one last year, imported from England with Campbell Scott as Ebenezer Scrooge, employed traditional holiday songs for its soundtrack.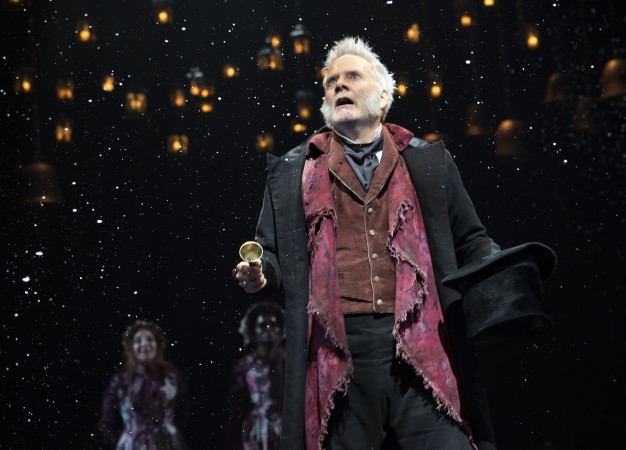 This year is mostly unmusical: Jefferson Mays is making a one-man show of himself in a filmed version of the play, streaming from now to Jan. 3. A rival Scrooge, Raul Esparza, enters the streaming scene Dec. 16 and will hold forth with a helpful supporting cast of seven until Dec. 20 in a virtual reading benefiting Primary Stages.
A Broadway-caliber version was transplanted at Madison Square Garden for a decade of Christmases (1994-2004). Each production had its own guest-star Ebenezer. Broadway tunesmiths Alan Menken and Lynn Ahrens came up with a lively 19-song score, the most insidiously catchy of which was timed to the clanging shuffle of Scrooge's late business partner, Jacob Marley, and titled "Link by Link."
Gregory Hines was a modern-day Scrooge, slum-lording over Harlem, for 45 performances at the Winter Garden in Comin' Uptown, in a short-lived musical from Garry Sherman and Peter Udell. Their big hit was "Christmas Is Comin' Uptown," which became the show's title when it was reworked for the regionals.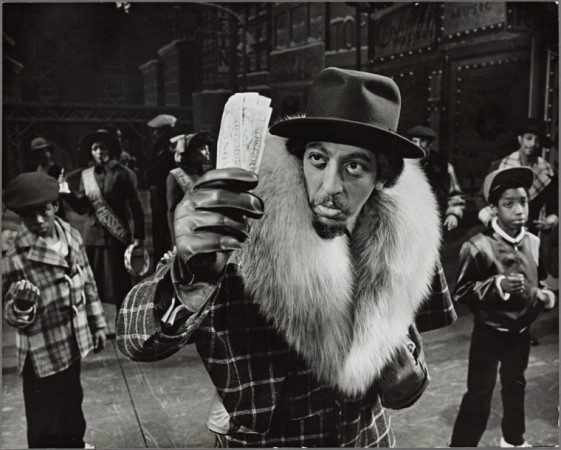 As soon as musicals moved into contemporary Christmases, Santa Claus tended to take over the focus from Ebenezer Scrooge. In 1961's Subways Are for Sleeping, our hero (Sidney Chaplin) is an amiable hobo who functions as a one-man employment office for the homeless and drifters. Outfitted as a Community Chest Santa Claus, he implores his fellow charity Santas to "Be a Santa." That commandment (composed by Jule Styne with lyrics by Betty Comden and Adolph Green) sends the red-suited brigade into a Cossack-kicking, Michael Kidd-choreographed frenzy that stops the show, or at least the first act.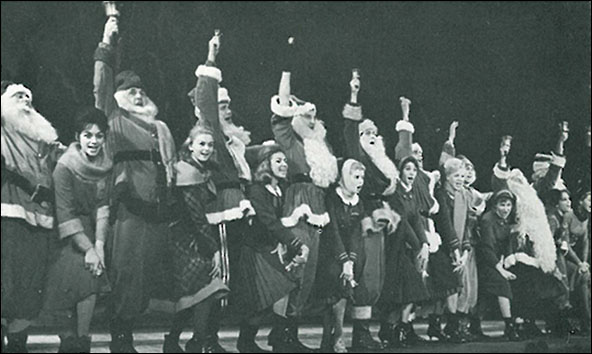 Kidd's choreography gets Here's Love going in a big way with no less than a Macy's Thanksgiving Day parade for Scene 1. This is the defiitive department-store Santa story, first filmed in 1947 as Miracle on 34th Street and here musicalized in 1963 by Meredith Willson. Some could say Willson got a head-start on this one. Midway through "Pine Cones and Holly Berries," a seasonal offering sung by the Kris Kringle-in-residence (Laurence Naismith), Janis Paige saunters in and starts singing in counterpoint "It's Beginning To Look a Lot Like Christmas," a little ditty that Willson had dashed off a dozen years before.
Store clerks run ragged by Christmas shoppers can be found in She Loves Me, all of them tending Maraczek's Parfumerie in a bustling European town of the '30s. Jerry Bock and Sheldon Harnick gave them a number to count down to, "Twelve Days to Christmas," and that was turned into a chaotic meshing of carolers, customers and clerks by director Harold Prince and choreographer Carol Haney.
The office Christmas party where the worker drones frolic and make drunken fools of themselves is represented in Promises, Promises, the Broadway musical version of The Apartment. Burt Bacharach and Hal David, taking their one shot at Broadway, provided a lively number, "Turkey Lurkey Time," for Baayork Lee, Donna McKechnie and Margo Sappington to dance in a Michael Bennett showstopper.
Mame Dennis (Angela Lansbury) is one of those workers who makes it home from one of those department-store rampages. To pull herself and her household on to a happier plane, she decides "We Need a Little Christmas," and one of Jerry Herman's most buoyant numbers takes it from there.
Harnick has had other brushes with this holiday. He provided lyrics to Richard Rodgers' next-to-the-last musical, Rex—notably, "Christmas at Hampton Court," sung by Henry VIII's three offspring: Elizabeth (Penny Fuller), Edward (Michael John) and Mary (Glenn Close). He also supplied words for Joe Raposo's music to A Wonderful Life, a 1986 stage version of the famous Frank Capra-James Stewart Christmas flick of 1946, It's a Wonderful Life. It never got closer to Broadway than the Paper Mill Playhouse because of the complicated stage rights to the original story, The Greatest Gift. Apparently, all that has been resolved: It's a Wonderful Life will get a London staging next year, with songs by Sir Paul McCartney.
"Hard Candy Christmas" has nothing to do with Christmas per se but does refer to a time when dirt-poor families of the Depression could only afford to give their children penny candy at Christmas time. Carol Hall's heartbreaking ballad comes at the close—or, more precisely, the closing—of The Best Little Whorehouse in Texas, euphemistically called The Chicken Ranch, when all the chicks in residence are rudely uprooted, set free and trying to put a happy, hopeful face on their uncertain fates and futures.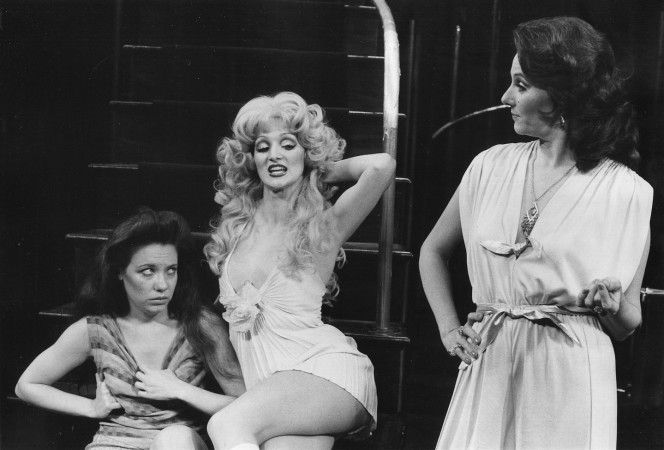 The joyful noise of the holidays, evident in everything from "Jingle Bells" and "Silver Bells" to "All I Want for Christmas Is You," is conspicuously absent in the most widely-known Christmas song of them all, the almost melancholy "White Christmas." Featured twice on screen and on Broadway in musicals titled Holiday Inn and White Christmas, it was written a long way from home during a sweltering California summer by a man who had lost his only son—25-day-old Irving Berlin Jr.—on Christmas Day of 1928.