Today is my daughter Stella's 21s birthday. She studies statistics and Italian, vaguely likes theatre, and is utterly straightforward, charmingly so. Naturally I am spending time assessing whether I've been a hindrance or help as she walks into a sea of adults never to be a child again.
We started our mother daughter dance in a kind of protective bubble but within a few short months, I was doing a play and carting her to rehearsals so as not to disrupt her supposed sense of comfort. The play on hand was called Lobster Alice and we performed it at Playwrights Horizons back when Playwrights Horizons was a rickety mid-town haunt and the term Hell's Kitchen had slightly more meaning. The wonderful director Maria Mileaf was at the helm and she was a new mother as well.
Stella and I felt very taken care of. The rehearsals were complete with breaks to breastfeed and the seasoned nanny, I'd met through a friend, seemed only slightly weirded out by the looks of our 46th street rehearsal space. We rolled into previews and I thought perhaps having Stella in my dressing room, or even backstage for that matter, might provide maximum coddling for her 6 month old self.
One evening, I sang to her in the dressing room as I donned the gorgeous period costume Ann Hould-Ward had dreamed up. It was circa 1940 in our play, I was secretary to an animator that Reg Rogers brilliantly portrayed. I was in love with said animator. During this particular evening, the love scene we were to enact had been slightly rewritten. I was to raise my voice in frustration and then our mutual attraction was to be realized and some of this romance would ensue. I focused on those new lines and the raise in my voice belted over the monitor. The sound woke Stella from her comfy sleep and she began to cry.
Stella cried powerfully and relentlessly and due to the way in which the stage was situated over the basement dressing rooms, Reg and I could hear the crying but those in the house remained oblivious. My body could not take it. My breasts began to express milk in such a forceful way that two round puddles formed on the front of my swanky suit jacket and I myself began to silently sob.
My attempt to "mother" while on stage, was the first of many miscalculations as a parent. As much as I'd like to think I'm a swell multitasker-there was simply no damn way to do both tasks at hand.. I could not maintain even a slight veneer of the character. I really should have been a magnet for Reg in that moment, but no, my sense was that he was frightened…or perhaps repelled?
I raced off stage at the end of the show to Stella now howling and Ann Hould-Ward, the kind nanny and several stage hands, trying in vain to soothe her. Maria arrived minutes later with her usual notepad and said : "I have only a few things from the beginning of the play. I want to shift to the final scene and just ask…."What was WRONG with you. Were you sobbing??? It's a love scene….."
And in retrospect it was. Between me and my daughter. If I had it to do over, forgive me, I perhaps would have done it all the same.
---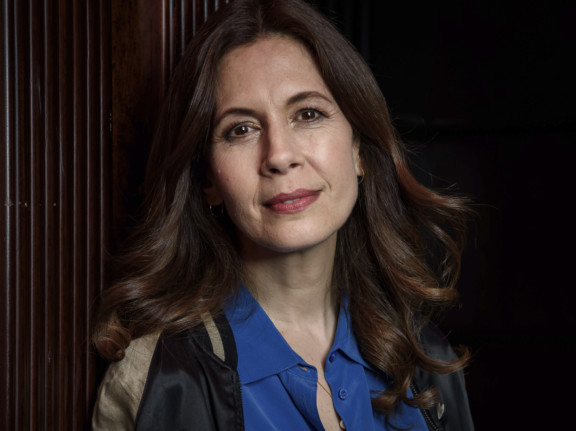 Jessica Hecht made her Broadway debut in The Last Night of Ballyhoo and has appeared on Broadway After the Fall, Julius Caesar, Brighton Beach Memoirs, Broadway Bound, A View From the Bridge (which garnered her a Tony nomination) and Harvey. She is known as Victoria in the indie hit Sideways and as Susan Bunch on TV's Friends. Her recent Broadway credits include The Price, Fiddler on the Roof, and The Assembled Parties.