Once Upon a Time…
Once upon a time my life changed forever when a horrible onstage accident led to a happily ever after. This was before my Broadway break, way back in Minneapolis, MN, where I grew up performing at the Tony Award-winning Children's Theater Company, where we set our scene.
I took a year off after my freshman year of college to intern as a Performing Apprentice at CTC in 2006, performing and understudying in all the shows that season, including the splashy holiday musical, Disney's Aladdin. It was led by one of the most influential directors of my life, Matthew Howe… who also proved to be a bit of a match-maker. I was 19 years old, cast in the ensemble, and charged with understudying the role of Princess Jasmine (forgive us, this was 15 years ago in a very scandinavian Minnesota). Also in the ensemble, a charismatic and very handsome young Nathan Johnson, understudied Aladdin. We often found ourselves gravitating towards each other, wanting to hang out on rehearsal breaks or between shows, and everyone (even my own mother) was placing bets on when we'd start dating. I had just gotten out of a long relationship and was hesitant to recognize any new romantic spark.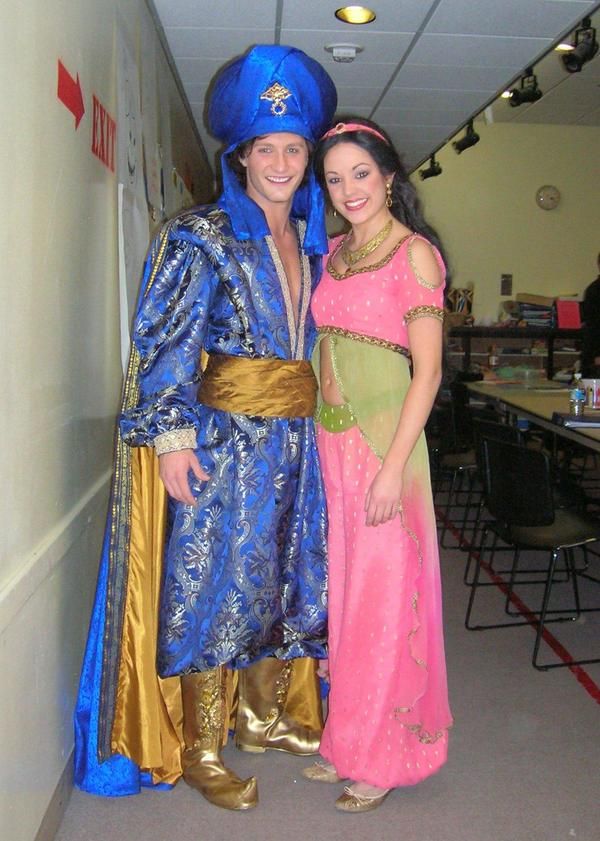 However, this budding "showmance" blossomed when one afternoon, the real Aladdin and Jasmine actually collided on stage in the middle of the opening song, "One Jump Ahead." He spun around at just the right moment, with just the right velocity, to knock his teeth right into her forehead, chipping his front tooth in half. Like gladiators, they charged on, using Aladdin's stolen loaf of bread to soak up the blood dripping from the bite into her eyebrow. The audience applauded as we buttoned the number, no one really realizing the severity of what had happened, until the voice of God came over the speakers to hold the show.
It was determined the real Aladdin and Jasmine would both need to be rushed to the hospital, Nathan would be the new Streetrat, and I would be stepping into the Princess' beautiful, albeit blood-stained, golden gown (remember, this is regional theater where understudies get one rehearsal, rarely go on, and definitely don't get their own understudy costumes or wigs).
Everything from here on out was basically a blur. Except that somehow, I knew I was going to be safe out there with Nathan — even though we were both understudies, taking on these iconic roles as blue-eyed babies, we had at least gotten one understudy rehearsal together and our off stage friendship made the onstage chemistry effortless. In Act II, as he reached his hand out to me earnestly, "Do you trust me?", I knew there was truly no one I could trust more in that moment to have my back and look out for me as we navigated our way through telling the story from this new, fantastic point of view. I still can't believe we actually rode that magic carpet together. As I said, my memory of it, from way up here, is far from crystal clear.
Unlike in the famous animated movie, Aladdin and Jasmine actually get married at the end of the musical. And this is the one moment I do recall. It was staged so that Nathan and I walked down opposite side aisles of the house, arriving and meeting center stage… Nathan in his pillowy, white turban, and me in Jasmine's pristine, belly-button-bearing wedding dress. My eyes met his and we couldn't help but smirk in disbelief and beam over the fact that we had made it. And that this was really happening!? With paper rose petals raining from the rafters and the entire teary-eyed cast staring at us and harmonizing a glorious reprise of "A Whole New World", Nathan took my face in his hands and kissed the bride!
I know you want me to say that time stopped and fireworks exploded everywhere, but I'm a professional, and a stage kiss is exactly that… a stage kiss. Even when it's with the boy I have a covert crush on. A few days later, I hosted a christmas carol party with the cast at my house, and as we said goodnight that evening, Nathan and I shared our first off-stage kiss… now THAT was indeed shining, shimmering, splendid! What was so inevitably meant-to-be, finally became clear in my heart. We started officially dating in that moment, he proposed exactly one year later, and we celebrated our 13-year wedding anniversary this past May. I guess you could say that onstage, fairytale wedding foreshadowed all that was to come, and it's been a whole new world ever since!
---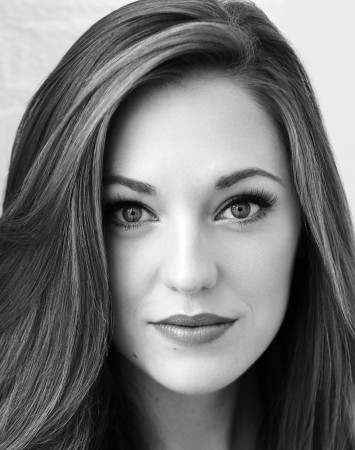 LAURA OSNES​ was last seen on Broadway in​ Bandstand ​and the title role in​ Rodgers + Hammerstein's Cinderella ​(Drama Desk Award; Tony, Outer Critics Circle, Drama League, Astair noms.). Other Broadway: Bonnie Parker in​Bonnie & Clyde​ (Tony nom.); Hope Harcourt in Anything Goes ​(DD, OCC, Astaire noms.); Nellie Forbush in​ South Pacific ​and Sandy in​ Grease. Encores! Productions of​ The Band Wagon, Faust​ and ​Pipe Dream; The Sound of Music ​in concert (Carnegie Hall); MCP's​ Crazy for You ​(Lincoln Center);​ Carousel ​(Chicago Lyric Opera).