By Mark Peikert
You may not know the name, but you have seen Paul Huntley's work. With a career that stretches back to Elizabeth Taylor's Cleopatra, the wig designer has worked extensively on both sides of the Atlantic, in film, television, and theatre. Faye Dunaway's hair in Network? A Paul Huntley wig. Princess Margaret's '60s beehives? Huntley. Patti LuPone's Evita hair? Huntley. From Mae West to Joan Crawford to Glenn Close to the hair that transformed Santino Fontana into Dorothy Michaels eight times a week in Tootsie, Huntley has been in close counsel with the biggest stars of the last 70 years.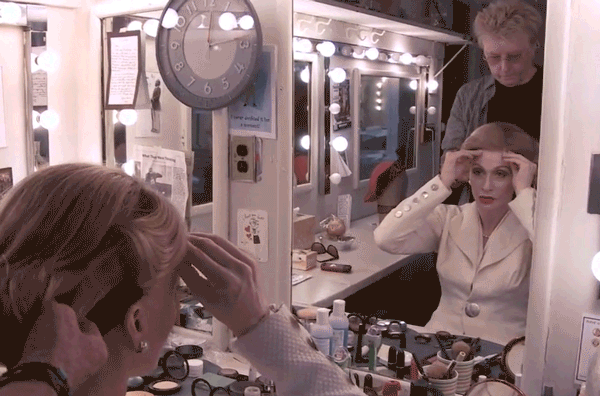 The erstwhile Brit is still going strong, contributing hair to Broadway's Diana and in the process recreating the look of a woman who conjures up a thousand different images in our collective memory as soon as her name is uttered. From the royal wedding to her media blitz tour post divorce, The People's Princess was a master at recreating herself—and in that regard, she's well-matched by the talents of Huntley.
Of course, recreating royal looks for a Broadway musical requires sleight of hand with which something more documentary-like (say, Netflix's The Crown) doesn't have to contend. There are microphones to consider, quick changes, and condensing a lifetime into a two-and-a-half evening show.
Huntley, Tony-winning director Christopher Ashley (Come From Away), and bookwriter Joe DiPietro settled on establishing Diana with just four iconic looks: the style with which she was first introduced to the public as the future Princess of Wales ("We call that the pudding basin look. Because it really wasn't that becoming to her"); the darker hair from the royal wedding, the must-watch event of 1981; the tousled and "quite big" hair that most people picture from the early '90s; and the shorter, spikier style from the end of her tragically short life.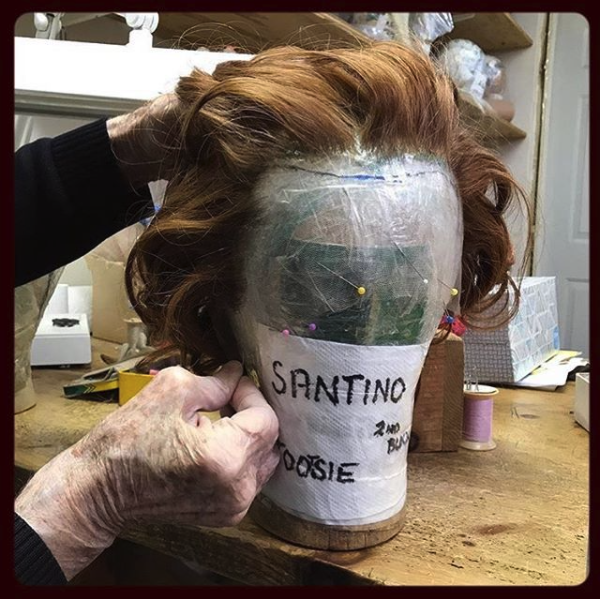 Huntley is also responsible for the rest of the royal family, as well—though one imagines Queen Elizabeth II's hair was a fairly simple feat, changing has it has not a whit for decades at a time—in addition to Diana's aunt, romance novelist Barbara Cartland, who sported a very specific look during the period.
Each wig takes an average of five days' work from Huntley and his team of five to create from human hair (Huntley sources it from "wig merchants" and most of the hair comes from Russia). For a project like Diana, what is particularly interesting is that there are very few natural blondes in the world; most blonde wigs audiences see have been dyed that shade. And throughout the process, Huntley remains in communication with both the creative team and the performers.
Though certainly not one to back down from an argument about his work—he tried in vain to convince Faye Dunaway not to restyle the Maria Callas wig he gave her for Master Class—Huntley has a c'est la vie outlook that has kept him sane while working intimately with some of the biggest divas of all time. "We're not curing cancer here, he says. "It is, after all, a musical. And people are wearing these things on their face, so you have to sort of say, 'Oh well, what the fuck.' You really can't make too much of it, I don't think."
Over the course of his long career, Huntley has seen fads come and go, and stars wax and wane. But throughout, the nature of his relationship with the performers has remained steadfast, ever since the day he crawled into Mae West's bed to set her wig. "Honestly I've never gotten over that," he says. "And all I could think was… 'My god, how does anyone have teeth that white?' It was like Walt Disney stars, they were so fucking white!"
"I always felt from my earliest years that they were the stars, and they were the most important people and therefore I was just someone who helped," he says. Now, of course, his reputation precedes him, but Huntley remains the "strange Englishman who'll probably do some wonderful stuff," as he puts it.
Beginning his career in England with Stanley Hall at Hall's Wig Creations—a major wig creation company for film at the time—Huntley was creating wigs and false eyebrows for director Mike NIchols—who suffered from alopecia—and made the leap to America after Nichols hired him to do the hair on Carnal Knowledge and asked if he'd ever considered moving.
"He said, 'Well, you know, why don't you come and live here?'" Huntley recalls. "And I said, 'Oh I couldn't possibly go to America! Good heavens, it's so loud!'"
"That's where the 'grand voice' comes in," he adds dryly.
But Nichols pressed on and ultimately sponsored Huntley's visa. Two years after Carnal Knowledge was released, Huntley made his Broadway debut with the Nichols-directed production of Uncle Vanya, starring—in a very eclectic cast—George C. Scott, Julie Christie, Elizabeth Wilson, and 70-year-old Lillian Gish.
"The sweet thing about Lillian was she said, 'Oh, Paul darling, I'm going to look so young on the stage! You're going to have to give me a gray wig," Huntley recalls, laughing. "And she did look young!"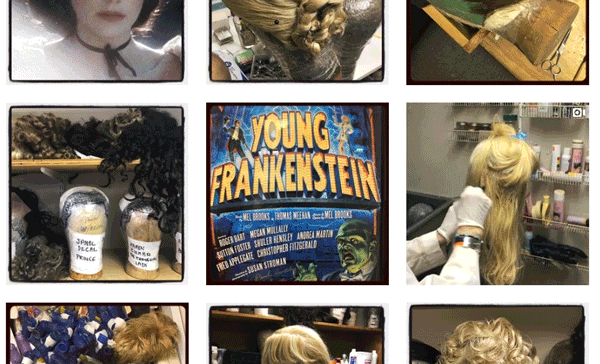 Huntley's list of devotees reads as a Who's Who of theatrical and Hollywood history. He worked again with Gish a decade later, when she starred with Bette Davis in The Whales of August; he did Crawford's wigs on her final film, Trog (a project that produces the equivalent of a good-natured verbal shudder from him); he restyled Marlene Dietrich's wigs when she toured the world with her concert act, receiving them in plain brown parcels with a note and a next destination to which he'd send the refreshed wig; he works extensively with Glenn Close, on everything from Sunset Boulevard to 101 Dalmations; and Patti LuPone famously has him written into her contract for every project since Evita. In fact, Huntley is the man behind her memorable, flame-colored wigs on Ryan Murphy's latest Netflix series Hollywood.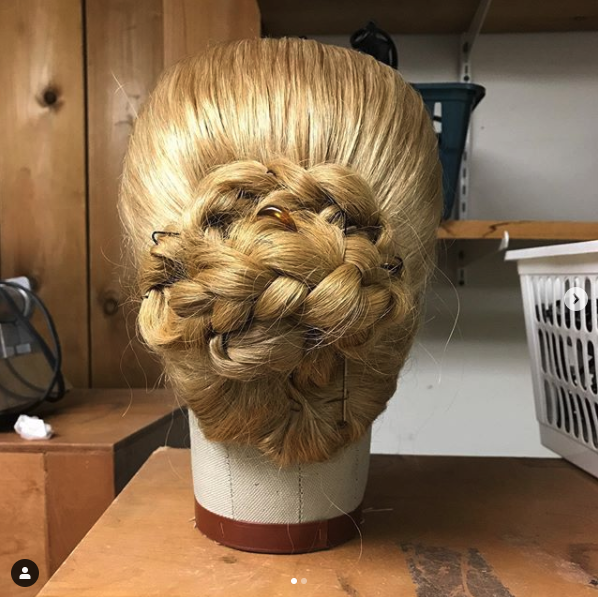 But even a man who counts the original Broadway productions of Dreamgirls and Cats (the project he'd most want to relive) to the most recent revivals of Anything Goes and Noises Off! has a few projects he wishes had been his.
"I would have liked to have worked on [the 2019] Kiss Me, Kate," he says. "I did the 1999 revival. I would have loved to have done that again. But there are good people. David Brian Brown, Charles LaPointe…I can respect people who do good work. I have no qualms about praising people if it's good work."
But with more memorable creations on his résumé than even seems possible, it's safe to say that Huntley's missed opportunities are few and far between. And with Diana, he proves once again who the royal hair creator is.
---
Follow Paul Huntley on Instagram at @paul_huntley_wigs