By Katie Devin Orenstein
Some Broadway shows can't be contained in just a proscenium stage. The Main Stem has one permanent theater-in-the-round, the Circle in the Square, but there's also a long history of visionary set designers and directors completely renovating one of the other 40 Broadway theaters to serve the needs of a show. The Broadway Theatre, on 53rd Street, has had its orchestra seats ripped out to make room for an immersive staging not once but thrice. A transformed theater, while costly, can fully immerse an audience into the world of the piece, creating unforgettable experiences. Below are some of the most fascinating immersive set designs in Broadway history.
Here Lies Love (2023)
The first theatrical transformation on our list is Broadway's latest, with this season's Here Lies Love, which begins performances June 17. It's the first of the three shows on our list to call the Broadway Theatre home. Something about its massive scale and vaulted ceilings, originally designed in the 1920s for showing movies, makes it a prime choice for mega-musicals like Miss Saigon and experimental immersive productions alike.
Here Lies Loves is directed by Alex Timbers, and the set design by David Korins surrounds audiences in a 1980s American disco like the ones frequented by the show's subject, former First Lady of the Philippines Imelda Marcos. Premiering at the Public Theater back in 2013, the idea of the show is to envelop viewers in a seductively cheerful world, to demonstrate how Marcos denied her and her husband's regime's cruelty, and how fascism packages itself to be attractive, as well as the lingering effects of American colonialism. The disco-electro-pop score by David Byrne and Fatboy Slim, originally written as a concept album, is so danceable that audiences can buy tickets for the standing section closest to the runway stage, where they will be part of the show and guided to join in choreographer Annie-B Parsons' dance moves. (This is the first time in Broadway history that standing room tickets are the most expensive instead of the least!)
The gut renovation for Here Lies Love, taking all the orchestra seats out of the Broadway:
Dude (1972)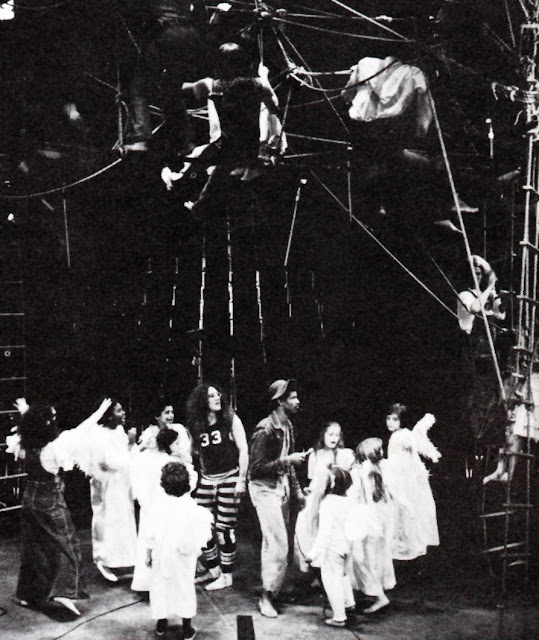 The ill-fated Dude: The Highway Life may have only played 16 performances on Broadway in 1972, but this counterculture 'happening' from Gerome Ragni and Galt McDermot of Hair fame upended the rules for how a Broadway theater could be used. Bringing downtown uptown, the Broadway Theatre was rearranged by designer Eugene Lee into a theater-in-the-round, with the actors where the orchestra section had been, and some audience members sitting on the stage.
It even featured trapezes and trap doors, with actors, in character as "Mother Earth," "Suzy Moon," or the titular "Dude," frequently interacting with the audience. Its "morality play" plot baffled critics, and Dude closed at a loss of $1 million, very high for 1972.
Natasha, Pierre, and the Great Comet of 1812 (2017)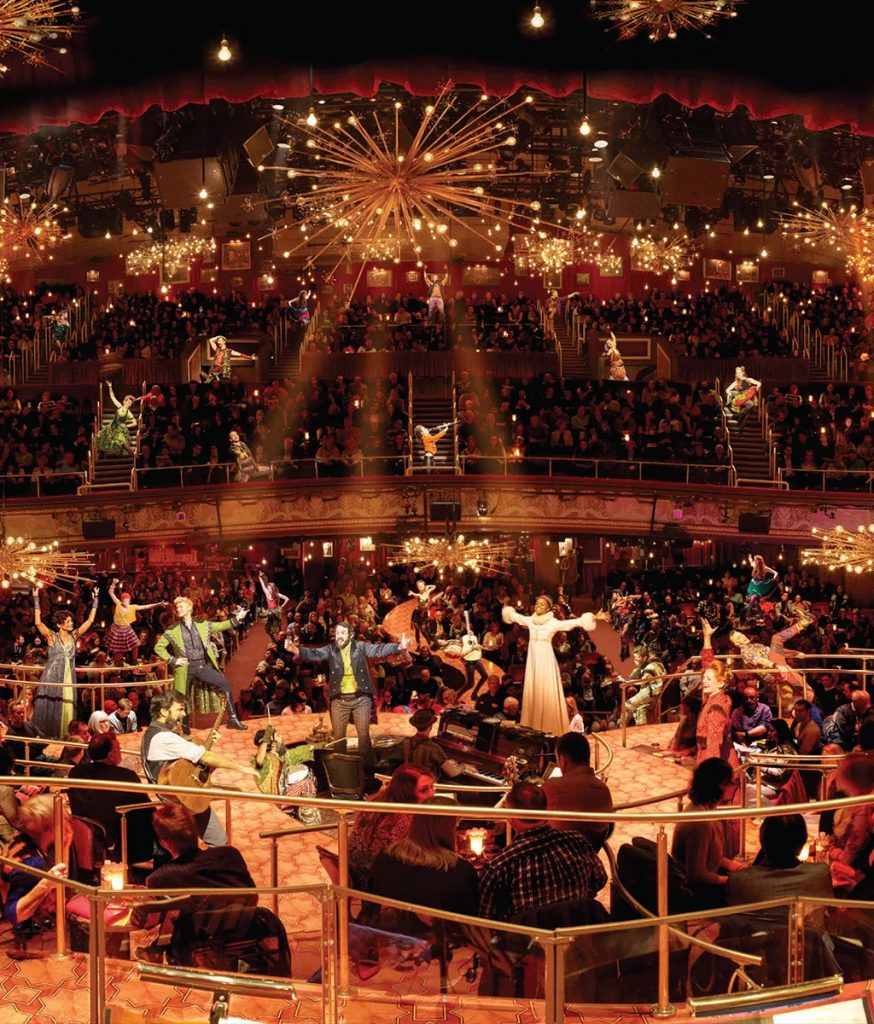 Great Comet, perhaps the most exhaustive and striking theater transformation on this list besides Here Lies Love, originated at Ars Nova, a flexible off-off-Broadway venue. As the show transferred to a tent in Hell's Kitchen (dubbed "Kazino"), and then to the American Repertory Theater in Boston for its pre-Broadway tryout, director Rachel Chavkin and set designer Mimi Lien worked to retain the intimacy, playfulness, and Napoleonic and Russian flair of the show. Composer-lyricist Dave Malloy based the show on a sliver of War & Peace, and created a score pulling equally from klezmer, EDM, and Sondheim. The entire Imperial Theatre auditorium was wrapped in red velvet, and a series of cascading staircases connected the original stage, the orchestra, and even the balcony section into one cohesive playing space. The titular comet was represented by a gargantuan chandelier, inspired by the one at the Metropolitan Opera and made of thousands of Swarovski crystals. Lien and her team even redesigned the lobby, adding elements of a Cold War-era bunker. Comet was nominated for 12 Tonys, and won two, for Set and Lighting Design.
Mimi Lien's initial sketches for Comet: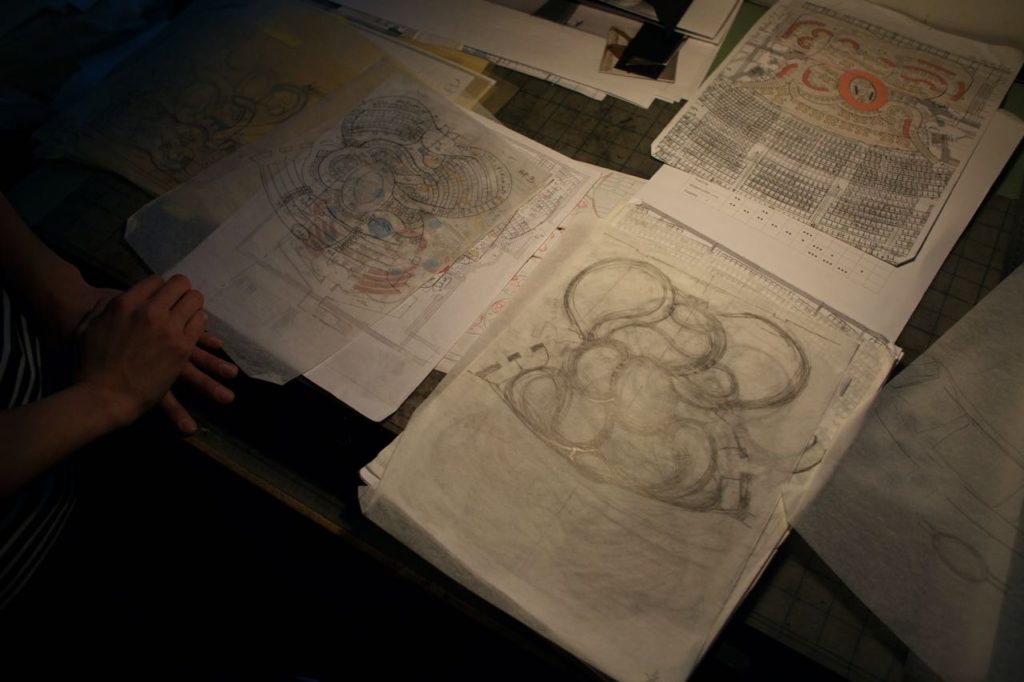 Cabaret (1998/2014 Revival)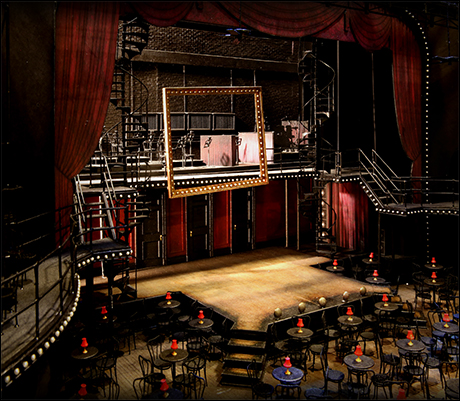 For director Sam Mendes' vision of the Kander and Ebb classic Cabaret, a former Broadway theater that had since been used as an adult movie theater and disco was reshaped into a grungy and sensual Kit Kat Club. Designer Robert Brill transformed the space on 43rd St, then known as Henry Miller's Theater, for the show's opening night. (10 years after Cabaret, Henry Miller's was rebuilt as the Stephen Sondheim theater.) When it became clear Cabaret was a runaway hit, Brill and the producers searched for a more permanent home for an extended run, and decided to overhaul another former Broadway playhouse-turned-disco, the legendary Studio 54 nightclub space, which was in desperate need of renovation after decades of Andy Warhol's parties. In both spaces, the stage was tightened into a small thrust, like the setup at many nightclubs both in New York and Berlin, and the premium orchestra seats were replaced with small tables and chairs. Brill, the Cabaret team, and the Roundabout Theater Company led by the late Todd Haimes did so much work on Studio 54 that they had reverted it back to its original purpose as a state-of-the-art Broadway theater, and when Cabaret closed in 2004 after a six year run, Studio 54 became home to everything from Waiting for Godot starring Nathan Lane in 2009 to Lifespan of a Fact starring Daniel Radcliffe in 2018, and the return of the very same Sam Mendes production of Cabaret, in 2014.
Candide (1974)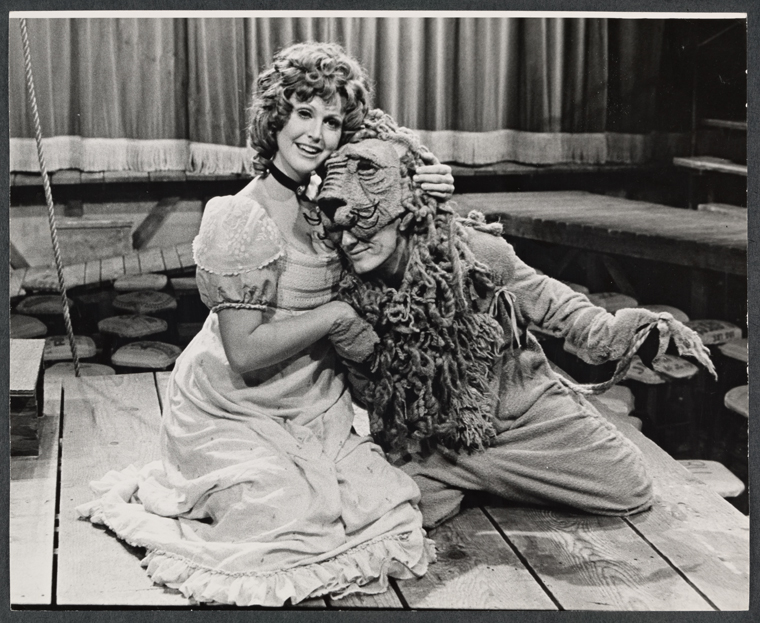 Harold Prince revived Candide, the 1950s Bernstein operetta based on the work of Voltaire, off-Broadway in 1973. It featured a revised and clarified book by Hugh Wheeler, and a stripped-down design ethos that emphasized Candide's hapless, everyman journey. Audiences surrounded a series of platforms and gangways, with some audience members even inside the rectangle of playing space. Hal Prince, never a risk-averse producer and director, was willing to reduce the number of tickets available in order to fit this conceptual set into the space. To transfer the production from the Brooklyn Academy of Music, set designers Eugene and Franne Lee ripped out most of the Broadway Theatre's orchestra seating, just as they had done for Dude. Candide fared far better than Dude, running for 740 performances and winning 5 Tonys, including for the Lees' design, and for Hal Prince's direction. Eugene Lee passed away earlier in 2023 after designing 27 Broadway shows, and his work can still be seen in Wicked.
The gut renovation for Candide: