By Mark Blankenship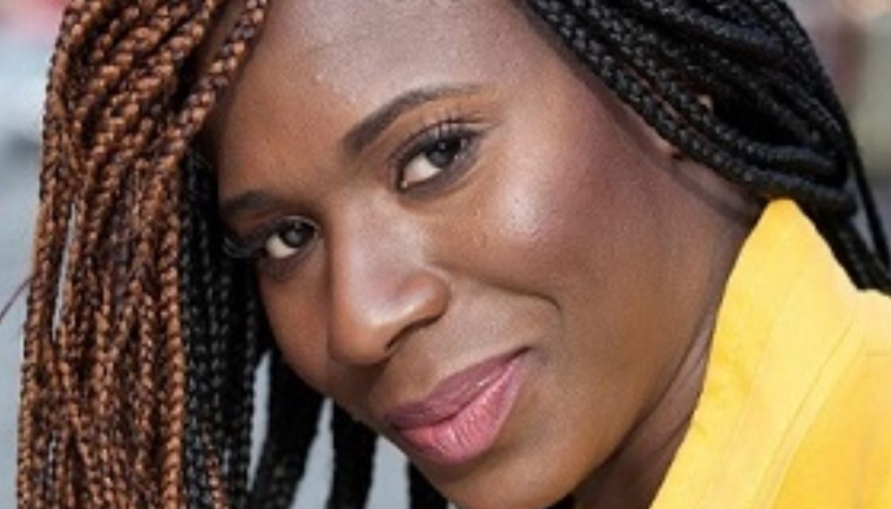 Before she became a costume designer, Dede Ayite studied behavioral neuroscience, and the two disciplines aren't as different as they might sound.
"Part of my training [in college] was focused on understanding psychology, and the process of research and uncovering gave me skill sets that come into costume design," she says. "I'm trying to go past what you're seeing on stage to add depth and layering to the character. What makes them come alive? What moves them? What breaks their heart? I love finding ways to express that, and to my mind, it all translates to costumes."
The breadth of Ayite's expressive power is reflected in the current race for the Tony Awards, where she has two nominations for Best Costume Design of a Play. On one end of the aesthetic spectrum, she's been recognized for her work on Slave Play, Jeremy O. Harris' formally audacious satire about interracial couples who enact plantation fantasies to work through their sexual and personal baggage. On the other, she's also been nominated for the revival of A Soldier's Play, Charles Fuller's drama about the murder of a Black soldier in he 1940s.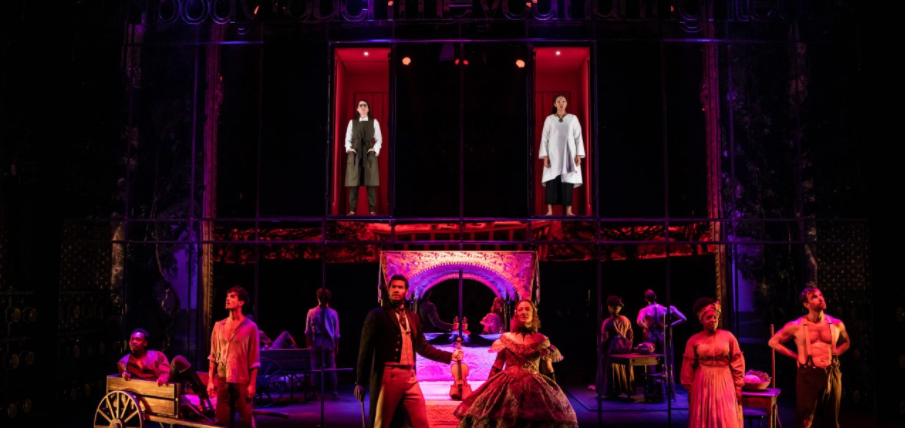 With Slave Play, she knew her clothes had to match the heightened world of the script. In the first scene, for instance, the audience doesn't know that the characters are modern people pretending to live in the antebellum South. "I wanted to drop little hints, so that we didn't get ahead of the satire," Ayite says.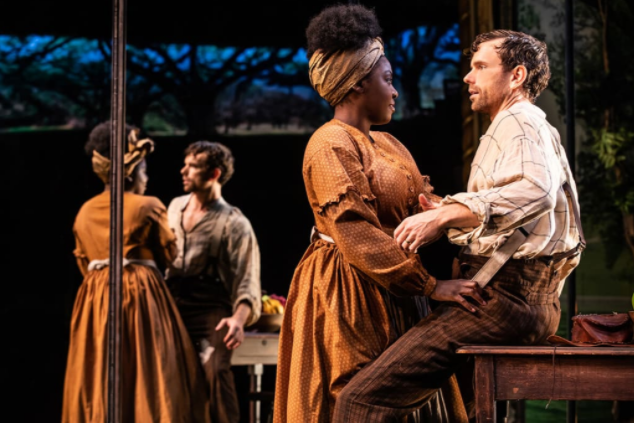 That's why, when the character Kaneisha entered wearing a slave costume, it read as "traditional" from the neck down: a dirty blouse, a cloth skirt, and a well-worn apron. "But I also threw a head scarf on her that was a bold blue color," Ayite notes. "During that time, a slave wouldn't be wearing such a vibrant head wrap, so that shifted it enough to make us aware that something was a little off." Similarly, she added lacy black gloves to another character's plantation mistress outfit, hinting at the sexual fetishes she would reveal later.
With a more realistic show like A Soldier's Play or David Mamet's American Buffalo, which Ayite will design for its upcoming Broadway revival, the costumes have to do just as much storytelling, but it has to be almost invisible. "Those are the hardest kinds of shows!" Ayite says, laughing. "A pair of jeans is never just a pair of jeans. You're sorting through potentially 50 pairs of jeans to find the one that moves the right away and has the right tone and color."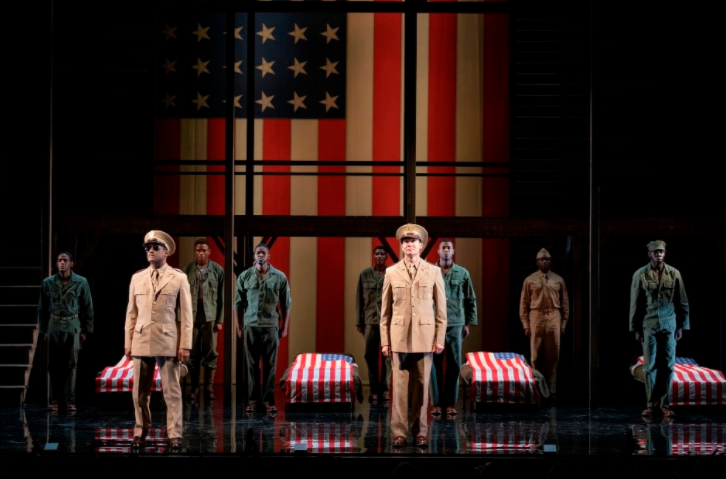 In A Soldier's Play, all the characters wore similar military uniforms, but Ayite was still able to reflect their individuality. "I personalized their uniforms through several distressing techniques: sweat, wear and tear, the degree to which a uniform has been cared for," she says. "Did a particular uniform have a crease because that soldier was adamant about always looking sharp? Or did it fit a tad looser based on that soldier's relationship to their role in the military?"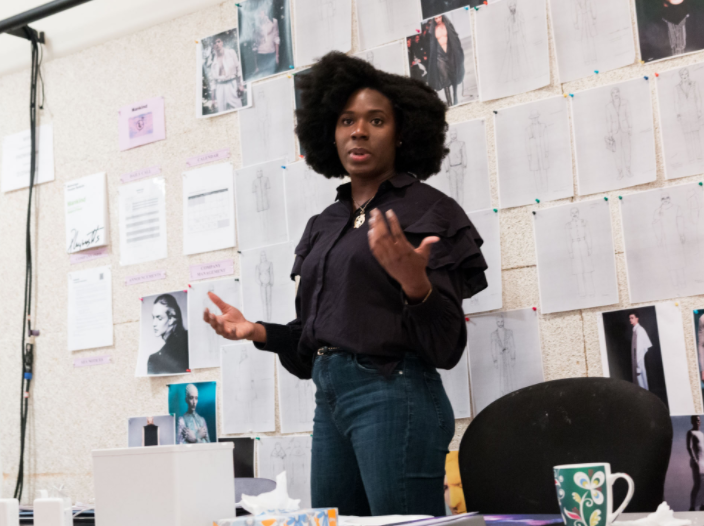 Currently her preparations for the American Buffalo revival have her thinking about how Donny, a junk shop owner in 1970s Chicago who will be played by Laurence Fishburne, might present himself. "I want to honor where he is and what survival means to him," she says. "He might not be dressed in something from the time period of the play. He might be dressed in a garment from a slightly earlier time period — a time when he was at the height of who he thought he was. He might be dressing as the person he used to be."
This deep thinking is crucial to Ayite's work. She explains, "The first read of the script is the most important to me, because after I read a play for the first time, I give myself a moment to tap into my immediate emotional reactions. I make a point to hold that somewhere in my mental space. I'm always hearkening back to it to make sure I then can capture that for an audience member."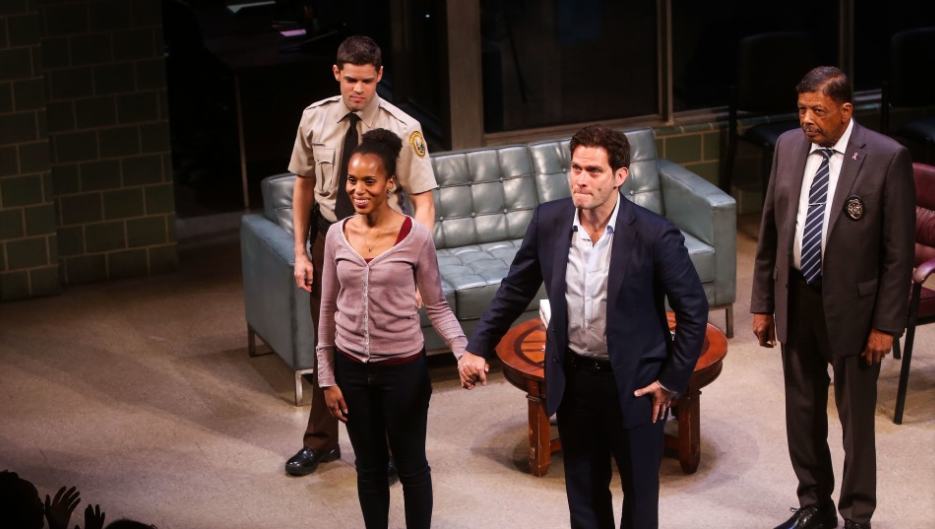 In some ways, that first read of the play is the closest Ayite will ever come to being an audience member for the production herself. Acknowledging her own first reactions helps ensure that her designs keep the audience in mind. "I want to remind myself about what happened to me when I read it," she says. "If there was wonder, how do I create wonder? I want to take audiences on that type of journey through specific choices with the clothes."
Mark Blankenship is the founder and editor of The Flashpaper and the co-host of Mark and Sarah Talk About Songs.