Michael Rupert won the 1986 Tony Award for Best Performance by a Featured Actor in a Musical for his portrayal of Oscar in the revival of Sweet Charity. He received his first Tony Award nomination in 1968 at the age of 16 for his Broadway debut in Kander and Ebb's The Happy Time. Rupert originated the role of Marvin in the William Finn musicals March of the Falsettos (1981) and Falsettoland (1991), which would later be combined into the 1992 two-act Broadway musical that featured Rupert, Falsettos. His impressive resume also includes Pippin (1974), Mail (1988), City of Angels (1991), Ragtime, originating the role of Professor Callahan in Legally Blonde (2007), and Our Town (2014).
In addition to acting, Rupert is an experienced director, writer, and composer. He directed The Lunch Anxieties Off-Broadway as well as the musical The Stars In Your Eyes. He composed the score to Strange Vacation, Mail, 3 Guys Naked from the Waist Down, and Streets of America, which he also co-wrote the lyrics and books.
We were fortunate enough to speak with Michael and get Twenty questions with a Tony Award Winner.
1. What were your first thoughts upon being nominated for a Tony Award?
I was thrilled. I had been nominated once before and had not gone on to win, so I thought whatever happens, at the very least, I'll get to enjoy the next few weeks of parties and anticipation.
2. What were your first thoughts upon winning?
I was pretty shocked. I didn't think it was going to happen. I hadn't even come up with any kind of "Thank You" speech, so I fumbled a few words and made my way backstage. Very surreal.
3. Do you have any fond memories from the night of the ceremony?
The Tony ceremony that year happened in the theater where my show, Sweet Charity, was playing, so when I got backstage, I was greeted by all the crew people I was working with 8 times a week. That was quite special. I got to share the moment with my friends.
4. What was a great opportunity winning the Tony Award afforded?
Winning the Tony Award did not really change my life or my career considerably, other than whenever anyone wrote about me or mentioned me, I was referred to as "The Tony Award-winning Actor…etc.
5. Where do you keep your award now?
I keep my Tony in a cabinet with other memorabilia.
6. Who is an artist/performer you admire?
Sam Gold.
7. What is the best advice you have received in your career?
"Just say the words. Don't act. Trust that you're interesting enough."
8. What is the last book you read?
NEVER by Ken Follett.
9. What is a dream role of yours?
I have no dream role, per se. Though, Fagin in OLIVER! is cool.
10. What previous role of yours had your favorite costumes?
In LEGALLY BLONDE The Musical, I got to wear very expensive tailored suits. I enjoyed that.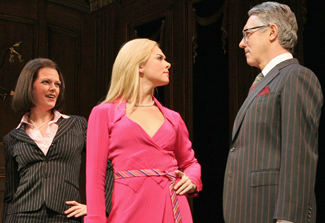 11. What is a fond rehearsal memory of yours?
I was in the very first workshop of William Finn's A NEW BRIAN at The Public Theater. Jason Robert Brown was our musical director/vocal arranger. The first day of rehearsal I watched him attack the keyboard like no one I'd ever seen. Truly brilliant muscular musicianship. I was in awe.
12. Which of your previous roles did you feel most similar to?
Marvin in FALSETTOS.
13. Which of your previous roles did you feel most different from?
I once played a cranky, old elf in a workshop production of Harry Connick, Jr.'s THE HAPPY ELF directed by John Rando. I am not an elf.
14. What has been a challenge you've faced in your career?
Letting go and trusting myself. I've always been too self-critical.
15. What are you working on now?
I'm retired from acting/performing at this point. I spend my time now directing and working with students at various colleges and universities.
16. What is your favorite song?
"I've Never Said I Love You" from Jerry Herman's DEAR WORLD. I can still listen to Pamela Hall's performance of that song, and it gets to me every time. Brilliant.
17. What is a show or movie you are looking forward to seeing?
It doesn't come out until next year, but I look forward to seeing the next part of DUNE.
18. What was your best subject in school?
English Lit.
19. What is your go to brunch order?
The Avocado Burrito at Tajin in Lower Manhattan. Unbelievably brilliant!
20. What is your favorite part of theatre?
Sitting in the audience the moment the lights go down.