All week long, we celebrate the life and legacy of Angela Lansbury. Here are tributes, stories, memories and the love we remember.
Today: Marin Ireland, Cherry Jones, Adam Kantor, Stacy Keach, John Larroquette, Kenny Leon, Patti LuPone, Joe Mantello and Michael Mayer.
---
MARIN IRELAND
One of the things I'm proudest of in my life is losing a Tony Award to Angela Lansbury.
I first became aware of the breadth of her career when I watched the movie Gaslight to prepare for a summer stock production of Angel Street the year I turned 21. She knocked my socks off. Her self-assured charm and comedic vitriol seemed otherworldly, I couldn't believe she had done that a few years younger than I was. I had only known of her as Jessica Fletcher and heard tell of her Broadway career, the stuff of legend.
Then it was 2009 and I was on Broadway for the first time. And she was there too, making a triumphant return in Blithe Spirit. I was lucky enough to witness her performance. Once again, I could not believe my eyes. How was she moving like that? Those high kicks? Getting those laughs upon laughs? She was pure magic. The epitome of ease and grace.
Whenever the five nominees were at an event, the other four of us would shyly gather and someone would say what we were all thinking "should we go say hello to Dame Angela?"
We were too starstruck individually. And none of us would have dared if we didn't have the excuse of sharing a category. It was a little silly, the idea of being "up against" Dame Angela. But I was so grateful for the excuse to be near her.
We would go and genuflect and she couldn't have been kinder or more gracious, every time. We attempted small talk but mostly just fawned and tried to be cool. It was giddying, humbling, and inspiring to be in her presence.
And I'll never forget the rush of emotion—joy and awe and reverence—as I leapt to my feet to applaud her when she won, tears in my eyes. I turned to my mother and she had the same look on her face I did. "Look at her", I said. "Wow."
---
CHERRY JONES
In 1974 on my Thanksgiving break Freshman year at Carnegie Mellon I came to NY to visit a friend who surprised me with tickets to Gypsy. I already worshiped Angela Lansbury. The previous Spring I'd played Mame in MAME at Henry County High School in Paris, Tennessee. I'd STUDIED the original Broadway cast album and every syllable, every note that came out of Ms Lansbury. I'd never heard a speaking voice or singing voice like hers. As unique as any voice I've ever heard.
What I remember most about her Gypsy was the force, the power the speed of her Rose. Her energy level was through the roof. She had no time to waste making her girls stars. By the time she sang "Rose's Turn", arms stretched over her head, her force was so tremendous it was as though she was lifting the roof like a pot boiling over and lifting the lid. At curtain call she seemed she seemed as though she could have asked the conductor to "hit it" and performed the entire show again from the top.
I saw the same tremendous burning captivating energy in her Mrs. Lovett in Sweeney Todd. I was on the last row in the theater for the first act and found an empty single seat in the middle of the front row for the second act.
I was feet away when she sang "Nothing's gonna harm you…". Her hands as she wrapped herself round the boy were so large, beautiful and eloquent. I felt wrapped by her too.
She was a Sequoia.
---
ADAM KANTOR
Angela not only represented ferocious talent and commitment to character, but a rare generosity of spirit — an inimitable blend of warmth and grace. She emanated humanity from every pore, and one could feel a sense of empathy that she carried — so evident in her work and how she approached her characters.
I loved how she seemed to love and embrace what Mrs Potts meant to the world – particularly to younger generations. It makes me think of her genuine care and interest in her own grandchildren, and my own relationship with my grandmother.
I'll never forget Angela visiting us backstage at Fiddler.  I had the pleasure of filming Alexandra Silber's reaction to meeting her.  Angela was (and always will be) Al's idol. Al wept upon meeting her.  Angela said to Al "If I was one small part of your success, I would be very happy."  
---
STACY KEACH
She graced our lives with an elegance and a generosity of spirit that left a trail of love and inspiration for actors everywhere. Regrettably, I never had the honor and privilege to work with her, but her presence among us, the gifts she bestowed on us with her iconic performances, matched only by her gracious warmth, places Angela Lansbury in a class all by herself. Her legend will live in our hearts and minds forever.
---
JOHN LARROQUETTE
Angela Lansbury was, to me, a beacon. A remarkable human and a towering talent. Working with her on Broadway was a privilege and a soul enriching experience I will never forget. She was kind, witty, charming and dedicated to our craft like no one I had met before. To stand on stage with her was a dream. Often I had to remind myself to keep acting and not just sit and admire her.
I was able to do the latter a few years ago when my wife and I had the pleasure of seeing her in Blithe Spirit on stage.
She will always be a giant of the theatre and a remarkable artist who will live on forever.
---
KENNY LEON
I remember seeing Angela Lansbury in Sweeney Todd. How could an actor engage me so deeply in a story? The performance was transformative and has lived within my artistic soul for so many years. It has inspired me to realize that if one tells a story, fully committed the audience is always ready to take the ride. Thank you Ms Lansbury for giving me the courage always needed to tell the stories that need to be told.
My favorite Angela performance Sweeney Todd.
She spoke to me during Tony Awards week… She spoke to me… I'm a soldier in her army…she spoke to me. So grateful for her sharing her gift with us.
---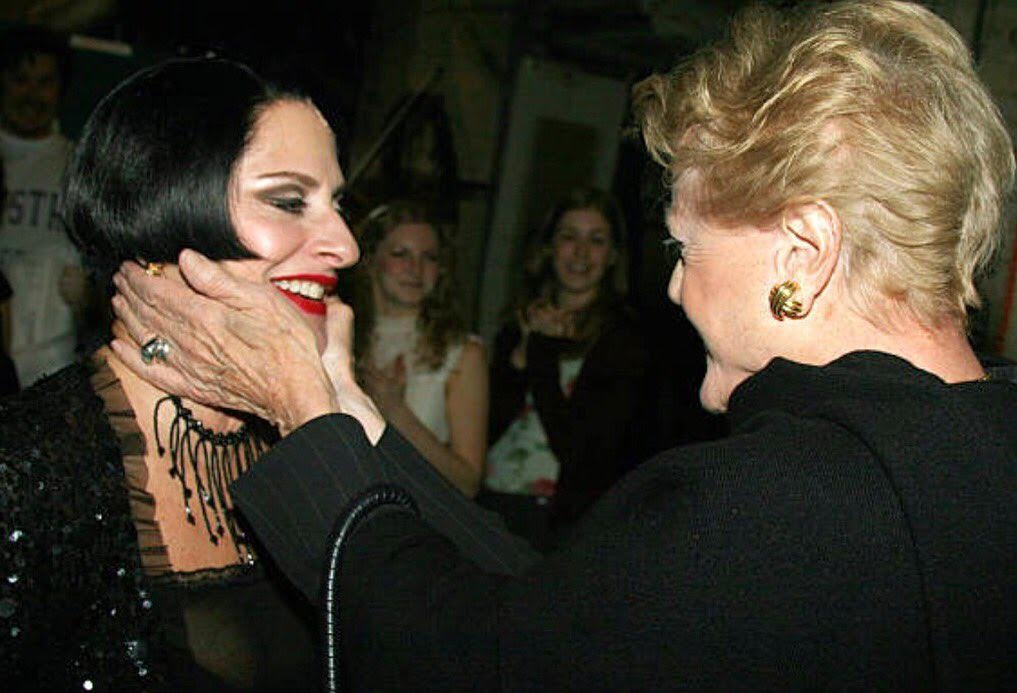 PATTI LUPONE
Angela has always been a standard bearer, whether on stage or on film. She was an effortless actor, an intelligent, empathetic, technically dazzling actor. Her performances on stage were indelible. There may be other interpretations but Angela's always leads. She was certainly never far from my mind when I played my first Sondheim role, Nellie Lovett in Sweeney Todd.
I can't pinpoint one role of Angela's. But Gaslight, The Manchurian Candidate and Sweeney Todd jump out at me.
Angela was a great lady. Kind, generous, supportive. When we did see each other there was such warmth. If she saw a performance of mine she let me know. She was always gracious when I visited her backstage. And I know from experience sometimes you just want to go home. Her last performance I believe was A Little Night Music. I visited her but was keenly aware of not keeping the Lady too long. But I had to pay my respect. She was a jewel. She was adored. She was an Artist of the highest caliber.
---
JOE MANTELLO
The theatre definitely lost one of the greats this past week. I was lucky enough to see Ms L give many remarkable performances over the years, starting with my very first Broadway show—SWEENEY TODD. I'm not sure I ever recovered.
---
MICHAEL MAYER
AL was a consummate artist, and her dedication to the theatre was an ongoing source of inspiration for generations of theatre makers. She was a living reminder that generosity, kindness, and personal dignity were compatible with enormous talent and drive and the quest for excellence.) I saw the original cast of Sweeney Todd at the Uris Theatre and her Mrs. Lovett made an indelible impression. I also loved her Rose in Gypsy which I saw on tour. My favorite screen performance is The Manchuria Candidate, but because she had scenes with Judy, I am a little obsessed with her in The Harvey Girls. I had the great honor of directing the Drama League benefit honoring Angie, so I spent some real time with her, and to say that those moments were memorable would be a gigantic understatement. She also gave us our Best Musical Tony for Spring Awakening. #bucketlist