All week long, we celebrate the life and legacy of Angela Lansbury. Here are tributes, stories, memories and the love we remember.
Today: Eric McCormack, Ian McShane, Jessie Mueller, Casey Nicholaw, Kelli O'Hara, Steven Pasquale, Austin Pendleton, Neil Pepe, Kenneth Posner, Zachary Quinto and Ann Roth
---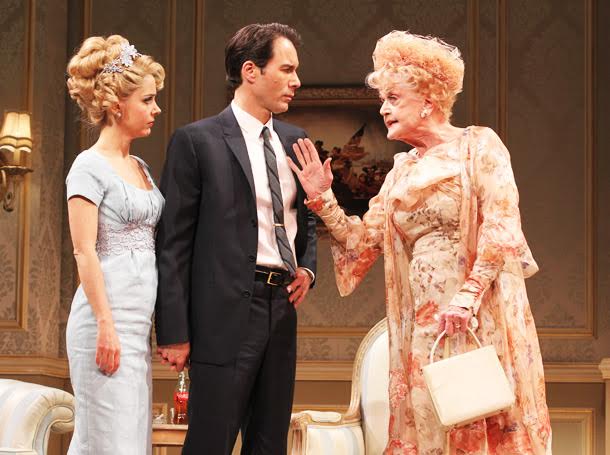 ERIC McCORMACK
I fell in love with Angela the first time I heard Sweeney Todd. I was seventeen. While I came to realize, years later, how many iconic roles she'd originated, and how incredibly versatile she was, I was blown away. But Mrs Lovett will always be my favorite hilarious at first, then sweet as pie when she fantasizes about living with Sweeney; heartbreakingly maternal with Toby, and finally downright vicious with Lucy… Angela was such a treasure because she brought so much depth and range to a character. Her dedication to coming back to the theatre year after year, despite such an incredible run in film and on TV, has always been inspirational to me. Her career just screams, "You can have it all, but you gotta WORK for it, constantly. And you gotta LOVE it." There was nothing cynical in Angela; the work mattered, right up till the end.
I got to share the stage with Angie for six months, during Gore Vidal's The Best Man. Still vital at 86, funny and chatty. My son was 10 at the time, and stood backstage during curtain call for a whole week once; and every night, as she exited the stage, she and James Earl Jones would high five my boy as they passed him. He knew who Darth Vader was; I hope one day he comes to appreciate the other giant of the theatre who greeted him all that week.
---
IAN McSHANE
On stage, screen and Life …….
She was fabulous
One of the GOATs, and sexy .
---
JESSIE MUELLER
I grew up with Angela Lansbury in two of my favorite childhood films, The Court Jester and Bedknobs and Broomsticks. There was something about her voice, her cheeky sense of humor; she could do it all. In later years, I realized she was Mame, a Sondheim darling and of course the star of Murder She Wrote. She's one of those great dames of the theatre that I'm not sure we'll ever see the like of again. May she rest in peace! What a legend.
---
CASEY NICHOLAW
Angela Lansbury was an icon to me growing up – the elegance, the voice, the comedy. She was musical theater personified – truthful, yet heightened. My family didn't have any money when I was a kid in San Diego so my entertainment was checking out albums from the library and learning about all of the Broadway musicals. I loved Sweeney Todd and Mame and also Anyone Can Whistle – especially her songs. My favorite Angela performance (from stage or screen) The Manchurian Candidate. I only got to meet her once – and it was such a thrill – she sat directly in front of me when she came to see Anyone Can Whistle at Encores and it was so much fun to watch her watch it – and she was also so complimentary afterward. It was a dream come true for my teen aged self.
---
KELLI O'HARA
She was the sort of star I admire the most. She never had to tell the world she was a star. It was just undeniable because of her work. I loved her gentle kindness.
I grew up watching her on television, so it wasn't until I heard her recording of Sweeney Todd that I truly understood just how versatile she was, just how brilliant. One of a kind sound, one of a kind look, unmatched ability. I was often at different events or galas performing somewhere in the same line-up (Jerry Herman's Kennedy Center Honor, etc.) so it was the personal interaction back stage or just off the stage when i could really see her true colors…a moment under pressure and yet her warmth and generosity to take a moment of her own time to acknowledge the gawking admirer. She would beat me to a compliment or a word of encouragement rather than let me shower her. That sort of star, who eases the air for a younger admirer, holds a special place in my heart.
---
STEVEN PASQUALE

Angela Lansbury is the shining example of a theater artist. Despite lots of success in tv and film she always always returned to the stage. A great example for those of us addicted to a life in the theater.
Without question my favorite Angela Lansbury performance…Bedknobs and Broomsticks. I have no idea if that movie even holds up but I have incredible memories of seeing it for the first time as a small child.
I've done a handful of concerts/benefits with her and found her to be utterly charming and aware of how impactful interacting with us would be for us.
---
AUSTIN PENDLETON

What she meant — and means — to me is that, as an actor, you can just keep on stretching. You can be adventurous. Continually.
I think, if I had to choose, that Sweeney Todd is my favorite of her performances.
I knew her slightly. I worked with her once, on an episode of "Murder, She Wrote."
She was DEMANDING. Excitingly so. I'd love to have worked with her again and again.
---
NEIL PEPE
To me, Angela Lansbury has always been an inspiration for the incredible range of her roles and her extraordinary work ethic. From theater to film to TV, she consistently delivered surprising and rich performances in everything she did. Angela performances that jump out to me when I think of her are Gaslight, The Manchurian Candidate and Bedknobs and Broomsticks. I never met Angela Lansbury but she continues to give me hope for longevity in this business.
---
KENNETH POSNER
I had the good fortune to design the lighting for one of Angela Lansbury's last Broadway shows, Gore Vidal's The Best Man. She was a kind force and I remember her being very gracious to all of us on the other side of the foot lights. Her range and diversity as an artist was an inspiration to anyone who cherishes making theatre.
---
ZACHARY QUINTO
Angela – to me – represented longevity via authenticity and good old fashioned talent. She was eloquent and tenacious and nuanced and always understood the assignment. The theater is a more vivid community because of her performances and the excellence of her craft. She was an anchor of the art form – and her absence will be felt deeply by anyone lucky enough to have seen her on stage.
My favorite Angela performance is hands down Mrs. Lovett in Sweeney Todd. I never got to see it live – but watched the recording dozens of times. She brings that character to life with equal parts humor heart desperation and devotion to dizzying effect. It is in my estimation peak Angela Lansbury.
Sadly I never got to meet her. A fact which I find particularly lamentable now that she's gone. May she rest well in the knowledge that she shaped and inspired the lives of generations of young performers and delighted audiences the world over.
---
ANN ROTH

Angela has always meant the gold standard. You knew from the minute you began to work with her that you had to raise yourself up to her standard as best you could. That is what she has meant to me and I believe to the theatre at large. Her presence and work was an example to everyone who worked with her.
Everyone says Manchurian Candidate is their favorite performance of hers and I would like to watch that every year. But Ms. Lansbury was in my first picture The World of Henry Orient and I was introduced to her ethic and her humor then and so it has a forever spot in my heart. She was also so very brilliant as Mama Rose in Arthur Laurents' Gypsy. What an actress!
Let it be known that, when I was living in Dorothy Jerkins' garage in the late fifties, Dorothy arranged for me to babysit Angela's children. This consisted of me putting the, then maybe six and seven year olds, into the roof well of my MG convertible and driving them around. But, in the last play we did together, Gore Vidal's The Best Man, we had the most giggles ever working on the fabulous wig that Paul Huntley made for her. Not every actress, in fact practically none of them, can work a wig like that, let me just say.