All week long, we celebrate the life and legacy of Angela Lansbury. Here are tributes, stories, memories and the love we remember.
Today: Jefferson Mays, Phylicia Rashad, Jeffrey Richards, Molly Ringwald, Michael Rupert, Matthew Byam Shaw, Phillipa Soo, Richard Thomas
---
JEFFERSON MAYS

"I performed with her in Jeffrey Richards's 2012 revival of Gore Vidal's THE BEST MAN at the Schoenfeld. Even though the combined ages of everyone above the title was around 500 years she was always, somehow, the youngest person in the rehearsal room and on stage —it was like performing with a 14 year old with the acting chops of an 87 year old. Play was always the thing with Angela. I remember hiding from her backstage during performances and she'd always hunt me down and hit me with her cane.
I was first mesmerized by her in BEDKNOBS AND BROOMSTICKS, (which she graciously condescended to discuss with me as a child in my 50's), but my favorite role of hers was Mrs Lovett in SWEENY TODD — In the early 80's, I checked the album out of my hometown public library every two weeks for the better part of a year.
And, of course, my favorite photo is of her, resplendent in medieval dress, tucking into a big hamburger with Basil Rathbone at the Paramount commissary while filming THE COURT JESTER. Pure Angela!"
---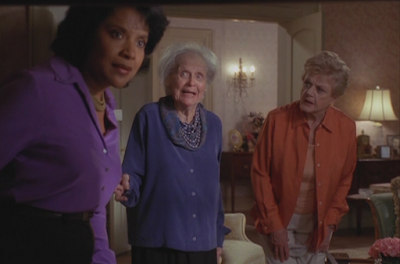 PHYLICIA RASHAD
I was privileged to work with Angela Lansbury in "Murder She Wrote." She was wonderful! Warm and personable, professional, and oh so kind. Her eyes were filled with light. She was filled with light and love. I treasure her memory.
---
JEFFREY RICHARDS
"For my memories all are exciting
My memories all are enchanted
My memories burn in my head with a steady glow"…those are the lyrics from the hauntingly beautiful Jerry Herman song which Dame Angie (as I called her) sang so memorably in "Dear World" I had the privilege of presenting her in "Blithe Spirit" and "Gore Vidal's The Best Man"…one word captures what she meant to me and to so many of us Class.
---
MOLLY RINGWALD
What a legend. I don't believe we ever met. I think I would've remembered, and I wasn't lucky enough to have seen her onstage since I grew up a California kid, but of course I know her film career. Let me think about it. I have many connections TO her (I did a film with Len Cariou who was in Sweeney Todd on Broadway) and She was the great aunt of my friend Ally Sheedy's son. Off the top of my head, I would have to say the Manchurian Candidate always blows me away. Especially the fact that she was playing Laurence Harvey's mother when they were almost the same age.
---
MICHAEL RUPERT
Angela Lansbury, in all the times I saw her on stage, made me want to constantly work to be better, to be truly committed to the work at hand and to be a real professional. She made the theater an amazing profession by example. My favorite performance of hers Mrs.Lovett in Sweeney Todd. Though, Elvis Presley's doting mother in Blue Hawaii is a close second.
When I was a young teenager, I moved to NYC from California to be in a Broadway show, The Happy Time. For my performance, I got a Tony nomination. The day of the Tony Awards show, we gathered for rehearsal and camera blocking at The Shubert Theater, where the televised awards were to be presented that year. At some point in the afternoon, I was sitting alone in the house, watching everything that was happening, when Audrey Hepburn (who was a presenter that year) came and sat beside me and started quietly chatting, asking to know all about me, my career and what show I was in, etc.. Then Angela joined us. And she seemed to be as genuinely interested in my young life in the theater as Ms. Hepburn. They both made a 16-year-old making his Broadway debut feel like a true member of the theater and acting community. And made him feel very special that day.
---
MATTHEW BYAM SHAW
Angela Lansbury had the grace, intelligence and enormous talent which made her a true star and a joy to work with. She had an unstoppable mix of charisma and empathy which made her beloved by the public and colleagues alike. Her family political history in the British Labour movement rooted her in the proper principles of decency, respect and fellowship which shone through in her work and elevated her further.
MY favorite Angela performance from stage (and/or screen)? As a small boy I was besotted with Bedknobs and Broomsticks.
After her triumph on Broadway she enjoyed the same great success with Blithe Spirit here in London at the Gielgud with such humility and delight. It was intoxicating and made the company and all of us at Playful Productions determined to have the best time possible with a great legend in our midst.
---
PHILLIPA SOO
Though I never met Angela Lansbury, her portrayal as the voice of Mrs. Potts in Beauty and the Beast is one of most distinct voices I can recall from my childhood. It was familiar, like a warm hug. What an icon. She has lived the exemplary life of an artist.
---
RICHARD THOMAS
I believe she had the perfect career. Long and varied in all mediums. Success both artistic and commercial. Delicious performances laced with wit, warmth and occasional creepiness. And an unswerving loyalty to the theater.
I can never get Mrs. Lovett out of my mind. She's always there, inviting me to have a pie.
We shared the same neighborhood and enjoyed many conversations in that orbit. I never played with her, but knew her and revered her as a colleague. And she was a truly lovely person. Here's to Angie!