By Patrick Jones
Although it is no longer President's Day, there are so many shows with Presidents that we had to keep the celebration going. Here are 7 more plays and musicals that feature POTUS.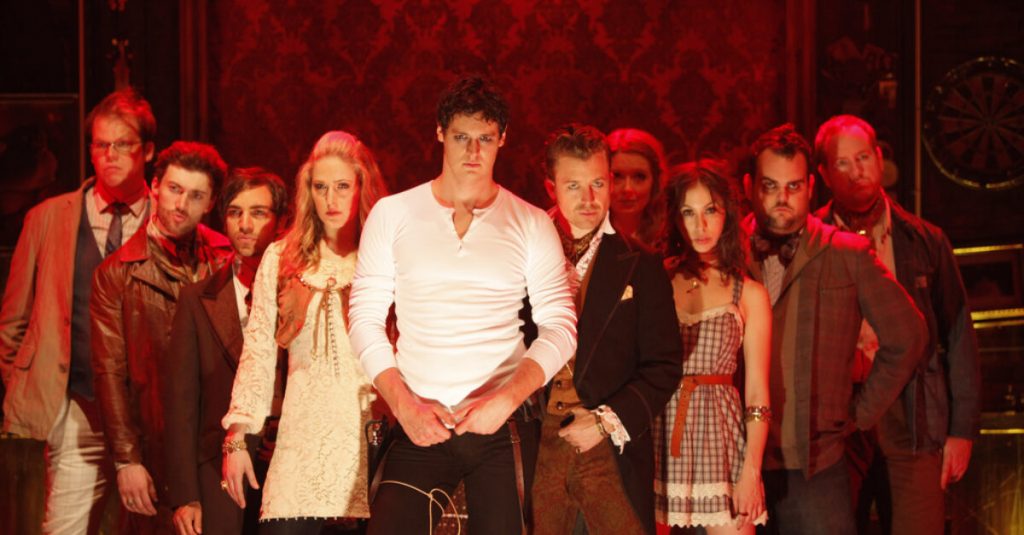 In 2010, composer Michael Friedman and librettist-director Alex Timbers headbanged their way to Broadway with the hard rocker of a musical Bloody Bloody Andrew Jackson, a satirical examination of the seventh President. Imagining Jackson as the rock star of his day, the musical follows his life and career, both in and out of the Oval Office. Highlighted throughout are the rise of populism, his relationship with his wife, and the signing of the Indian Removal Act, just to name a few. There are also some other U.S. Presidents who pop up throughout the show, including George Washington, Martin Van Buren, John Quincy Adams, and James Monroe.
A one-man show proved to be an effective vehicle for James Whitmore, who played President Harry S. Truman in the biographical play Give 'em Hell, Harry! The title comes from a remark one of Truman's supporters made while he was giving a speech as part of his victorious 1948 Presidential campaign. Written by Samuel Gallu, Give 'em Hell, Harry! premiered at Ford's Theatre in Washington, D.C. in 1975.
Stephen Sondheim got in on the Presidential act with 1990's Assassins. Utilizing the framing device of a sinister carnival game, the tuner looks at a group of deranged individuals who attempted — successful or not — to kill various U.S. Presidents, a list that includes John Wilkes Booth, Charles Guiteau, and Lee Harvey Oswald. Though very few Presidents are actual characters in Assassins, the musical tells audiences a lot about them, and how they became the target of the various assassins singing and being sung about. It took 14 years for Assassins to finally reach Broadway, opening in a stacked 2003-04 season yet winning five Tonys, including best musical revival. More recently, John Doyle directed an acclaimed Off-Broadway production at Classic Stage Company, which was delayed due to the COVID-19 shutdown and finally ran towards the end of 2021.
Franklin Delano Roosevelt's long battle with polio was dramatized in the 1958 Dore Schary play Sunrise at Campobello, named after the island that served as FDR's summer home in New Brunswick, Canada. When it opened on Broadway, Ralph Bellamy played the disease-stricken President, and Broadway newcomer James Earl Jones was featured as Edward, the butler. The winner of four 1958 Tonys, including best play, Sunrise at Campobello was also turned into a successful film adaptation in 1960, also starring Bellamy.
1600 Pennsylvania Avenue served as Leonard Bernstein's last original Broadway score. The 1976 tuner — written for America's bicentennial — parades through the early history of the White House and its inhabitants from 1800 to 1900. It also looks at the influence of several First Ladies and includes additional commentary from White House servants. 1600 Pennsylvania Avenue ran a grand total of seven performances, but it gave Bernstein one more well-regarded collection of music.
While set in a period before the executive office existed, the Sherman Edwards-Peter Stone musical 1776 focuses on future Presidents John Adams and Jefferson, taking audiences inside the making of the signing of the Declaration of Independence. 1776 shows Adams as the leading champion of said independence, as he persuades his colleagues to sign the document that he has coaxed Jefferson to draft. 1776 premiered on Broadway in 1969 and won three Tonys, including best musical; it was revived in 1997, before a 2022 production at Roundabout Theatre Company broke new ground for the title by highlighting an all-female, non-binary, and transgender cast. That production is currently on a national tour following its recent January 8 Broadway closing.
Lin-Manuel Miranda's 2015 hip-hop, non-stop juggernaut of a magnum opus Hamilton (still running at the Richard Rodgers Theatre) chronicled the life of Treasury Secretary Alexander Hamilton and the birth — and "afterbirth" — of our nation. Hamilton served alongside then-General George Washington as his "Right Hand Man" during the Revolutionary War, before Washington appointed him to his Cabinet after becoming the first President. Soon after, Thomas Jefferson arrives overseas after serving as France's ambassador ("What'd I Miss"), and Hamilton gains two more political enemies in both Jefferson and James Madison, who are ideologically alike. In addition to Hamilton's Broadway production, various national tours, and countless international mountings, a proshot featuring the original Broadway cast can now be streamed on Disney+ (featuring Tony winner Leslie Odom, Jr., soon to be seen on Broadway in a revival of Purlie Victorious).