One of my favorite experiences as a Stage Manager has been working on the show Jerusalem by Jez Butterworth. It stands out to me for several reasons. I went to London to rehearse the show which was a first for me. Working with my assistant Ken McGee, I learned a lot about how differently a British director and acting company work on a play. There was a lot of improvisation and playtime built into the day. The majority of the cast had done the show before so this helped the new members (and us) get a feel for the show and become integrated into the world of the play. We also had to work on our accents (we all had to practice it for a few days). And we took a field trip to the area outside London to the part of England where our play was set.
This passion and care to create the exact atmosphere was invaluable as we moved this show to New York.
Another extraordinary component was that the show had live chickens, (kept in their own "star" dressing room) a turtle, goldfish, a horse trough full of water, small children, real grass and dirt and an Airstream trailer on stage. As it turns out this was not the last show I did with live animals and children but that's another story. The magic we created together with Mark Rylance as the lead actor and Ian Rickson as our director was an amazing experience. The show started with a late night rave party with strobe lights, stage fog and LOUD music and ended with the conjuring of mythical giants.
Every night I was swept away as the actors and technicians joined together to believe wholeheartedly in the story we were telling. We were lucky to be able to make that magic with every performance.
---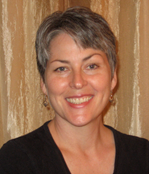 JILL CORDLE Broadway: The Inheritance, The Ferryman, Six Degrees of Separation, The Cherry Orchard, Blackbird, The Gin Game, The Audience, The Realistic Joneses, Betrayal, Picnic, Death of a Salesman, Jerusalem, God of Carnage, November, The Odd Couple, Glengarry Glen Ross, Reckless, The Tale of the Allergist's Wife, True West, Smokey Joe's Cafe, Art.