During my Signature season, I discovered I would be missing a producer/artistic director, Jim Houghton, who took a much needed sabbatical. And so I found myself perching in the position of "all hands on board:" parking the car for the habitually late music director on my first show, and apologizing to critics when our electricity went out on critics night (the old signature theatre shared electricity with a medical office that did MRIs so the circuit somehow always tripped on opening nights). There was a director I couldn't fire, because there was no artistic director, and who refused to quit, so I needed to be at every rehearsal. The women cast members and the stage manager ended up staging the play, and their spirits saw me through. My directors Mark Brokaw and Les Waters saw me through the rest of the season.
And so one night I was keeping vigil in the lobby during "Hot 'N' Throbbing." As we watched through the monitor, the house manager and I saw something…not right. A woman got up from the audience, and tried to make her way up the side aisle, weaving and stumbling. A heart attack? A stroke?
We rushed into the back of the theatre, up a flight of stairs, and caught her at the top of the stairs as she passed out in our arms. We quietly carried her out of the theatre—the audience didn't even notice. We laid her down on the lobby floor. The house manager ran to the phone and dialed 911, while I stayed with the woman, leaning over her. She suddenly opened her eyes and exclaimed: "Who wrote this play?!"
"…I did."
"Oh!. Are you a professional?"
(I thought she was talking about being a professional playwright). "Yes, I am."
"I thought so! Only a professional could know this stuff! ". She chatted as she sat up, and we gave her orange juice. "I used to do films, too. But…it got too rough….and when I heard the whir of the camera, the sound effect kinda of….well, I knew I had to get out of there. My John is still inside."
"Do you want me to get him?"
"Nah! He's enjoying it."
She refused to go to the hospital. I insisted on walking her to tenth avenue to get her a cab.
She chatted, happy to find that a professional sex worker was engaged in playwriting. But does it pay? she asked. Not really, I admitted. By this point I realized what she meant by being professional, and I didn't want to dash her enthusiasm.
"I am so glad you are out of the trade!" she told me as the cab neared. "I'm gonna leave it soon, too."
With the cab door open, she gave me a hug.
"I'm so proud of you!"
I hope she got out of the trade. One day, I'm gonna leave my trade, too. We all do.
---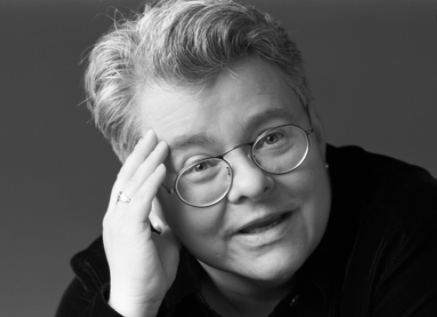 PAULA VOGEL is a Pulitzer Prize-winning playwright whose plays include INDECENT (Tony Award for Best Play), HOW I LEARNED TO DRIVE (Broadway production set for spring 2020; Pulitzer Prize for Drama, the Lortel Prize, OBIE Award, Drama Desk Award, Outer Critics Circle and New York Drama Critics Awards for Best Play), THE LONG CHRISTMAS RIDE HOME, THE MINEOLA TWINS, THE BALTIMORE WALTZ, HOT'N'THROBBING, DESDEMONA, AND BABY MAKES SEVEN, THE OLDEST PROFESSION and A CIVIL WAR CHRISTMAS.