By Jordan Levinson
Through the years, there have been multiple rehearsal spaces that have etched their places in New York City lore and hosted some historic theater moments.
As early as the 1930s, Fazil's Times Square Studio served as a safe space for a large plethora of cultural figures, from struggling dancers to rap and hip-hop artists and famous movie stars. Rates were cheap, and even penniless artists could afford to rent out a rehearsal room. Located on 8th Avenue between 46th and 47th Streets, the building used to be called Michael's, until taxi driver Fazil Cengiz — who had grown up in a dancing family — bought the space in 1978. Countless workshops and rehearsals for Broadway musicals were held in Fazil's 14 rooms, spread out across three floors. After 73 long years in business, Fazil's closed in February 2008 and made way for a condo and hotel complex. Its legacy lives on in movies like "Easter Parade" and Woody Allen's "Broadway Danny Rose."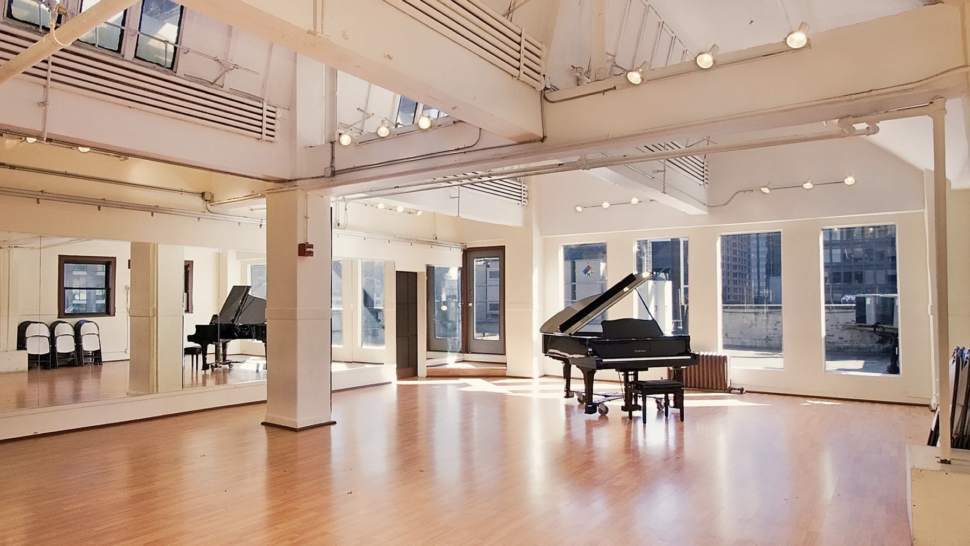 Also once in the heart of the Theatre District was Shetler Studios, which was founded by voice instructor Ron Shetler in 1990 and provided another affordable space for performing artists. It featured a whopping 35 rehearsal rooms and two black-box theatres, which fostered the growth and development of countless readings, workshops, and Broadway and Off-Broadway productions. One of the first readings of Be More Chill was held at Shetler Studios, as well as early rehearsals of The Jonathan Larson Project and [title of show]. Lin-Manuel Miranda has especially remembers bringing in the new bridge of "That Would Be Enough" for Phillipa Soo to sing for the first time. Shetler closed in May 2020 during the first wave of the COVID-19 pandemic.
In the mid-1980s, West Side Rehearsal Studios opened with Patricia Ripley as the manager. Patricia, who has a background in music and nightclub management, developed a long-distance relationship with former stuntman Butch Grier, and the two of them took over the studios. As their business started to prosper, they started to expand, from just five studios on three floors to 29 total studios in 2002 (and in other suitable spaces), and they renamed their spaces the Ripley-Grier Studios. Now, across four West Side locations, Ripley-Grier consists of 92 spaces and boasts a staff of 45. In addition to Broadway rehearsals, readings, and workshops, the studios provide a solid background for auditions, seminars, meetings, and showcases.
In 1991, choreographer Gina Gibney launched a dance company with just a single dance studio to work in. Through many expansions, the company kept expanding as the years went by, and to this day thousands of artists work in two New York City locations, which total 23 rehearsal studios and 5 performance spaces. On the fifth floor of 890 Broadway (in Union Square) is where Gibney's largest space can be found: Studio 4. An expansive studio designed for big ideas, it is perfect for large groups and high-budget productions, which best explains why countless major Broadway productions have rented it out for their rehearsal periods. Before Gibney moved into the space, the director-choreographer Michael Bennett used his profits from A Chorus Line to buy the studios in 1978 and further expand the area. Bennett's love for dance was particularly reflected in two other building tenants — the Eliot Feld Ballet and the American Ballet Theatre. Studio 1 was also once the home of costume design company Barbara Matera Ltd, which worked on costumes (mostly as an assistant designer) for over 100 Broadway shows. Besides the Union Square location, some of the other Gibney studios can be found further downtown on Chambers Street — 280 Broadway. The 2022-23 Broadway season's Take Me Out revival was rehearsed at Gibney Center, as well as Bob Fosse's Dancin' and Jefferson Mays's A Christmas Carol.
A relatively recent entry in the rehearsal space sweepstakes is Open Jar Studios, which opened in summer 2019 and was founded by various Broadway luminaries, including director Susan Stroman, project manager Jeff Whiting, producer Barry Weissler, and The Shubert Organization, just to name a few. A 21st-century institution targeted specifically at larger-scale Broadway productions, Open Jar — located on the corner of 48th and Broadway — features many expansive spaces for auditions and rehearsals, but they can also be used for production offices and even some costume fittings. At first, the studios were so necessary and in-demand that its entire first year of business was near-completely booked. Open Jar is now officially New York City's newest and largest rehearsal studio space, a reliable option for Broadway shows of all shapes and sizes. In the 2022-23 Broadway season, KPOP, A Beautiful Noise, and Sweeney Todd used up the space. Every day, one can see the various industry readings, workshops, and rehearsals taking place under the large TV display in the lobby.
Perhaps some of the most iconic rehearsal spaces can be found at New 42. Since 2000, New 42 has played host to several nonprofit theater groups, and most Broadway musicals and plays to this day rehearse in the building. New 42 features over a dozen rehearsal spaces, 10 of which fit the entire footprint of a Broadway stage. It is located on 42nd Street between 7th and 8th Avenues, so some rooms have a stunning view of Times Square and beyond. Multiple Broadway shows can —and often will — fit under the same humongous roof New 42 offers. During a busy spring 2018 Broadway season, The New York Times chronicled a day from 10 AM to 6 PM where Frozen, Pretty Woman, and a replacement cast of Hamilton all rehearsed in separate rooms. A handful of shows rehearsed there this season, including Some Like It Hot, Parade, and Into the Woods.